St. Thomas snorkeling spots explore the underwater wonders of the US Virgin Islands. Nestled in the crystal-clear waters of the Caribbean, St. Thomas offers a paradise for snorkeling enthusiasts. With its abundant marine life, vibrant coral reefs, and turquoise waters, this island is a haven for underwater exploring. From popular locations like Coki Beach and Sapphire Beach to hidden gems like Thatch Cay and St. Thomas' Mangrove Lagoon, snorkelers will find a myriad of captivating sites to discover. The best part of snorkeling in St. Thomas is that the majority of spots are very accessible and great when traveling with kids. So grab your mask and fins and prepare to immerse yourself in the breathtaking world beneath the water as we unveil the best St. Thomas snorkeling spots.
Disclosure: when you buy through links on our site, we may earn an affiliate commission at no additional cost to you. We only recommend products we would use ourselves and all opinions expressed here are our own. Read more about our privacy policy.
When planning a trip to the US Virgin Islands it's good to know that all beaches on St. Thomas and St. John are public beaches, even at resorts, so this provides a lot of options for incredible snorkeling on St.Thomas. In addition, most beaches in St. Thomas beaches are free (not all) and are very accessible
Snorkeling St. Thomas
These are some of the best snorkeling spots you'll find accessible from mainland St. Thomas or a short ferry or boat ride away.
#1 Coki Beach
This is a world-renowned snorkel and scuba dive center right next to Coral World that offers classes and certification. The clear turquoise waters are in a protected cove but the area can still have a lot of waves due to the frequent boat traffic just past the buoyed swim area. Coki Beach has some of the best snorkeling and diving on St Thomas and it can easily be reached right from the beach. This makes it great for beginners or kids learning for the first time. It's a beach locals love as well as those off a cruise for the day and because it is a fairly narrow beach it can feel crowded quickly. But the snorkeling is so good this shouldn't stop you!
Note: unfortunately, visitors to this beach have been known to feed the fish. This is not advised for protection of the marine life. Fish now frequent the shallow areas of the beach thinking they will be fed.
Parking and Amenities
The parking lot is very small and there's a $5 charge but no other charge to access the beach. Tip if you plan to visit Coral World first and then go to the beach consider parking closer to the beach as the parking here fills up but is a close walk from Coral World.
This beach has some of the most amenities with gear rentals, chair/umbrella rentals, a bar/restaurant with servers taking orders on the beach as well as bathrooms and a shower/changing area.
Bonus
Coki Beach offers snuba, snorkeling, and scuba-diving hybrid. This is an experience a 20-foot air hose connects you to the surface. The cost is $74. Children must be eight or older to participate. Note there are two different and separate SNUBA operators at Coral World; VI SNUBA and Coral World SNUBA. VI SNUBA cannot be booked at Coral World (it can only be booked online)
#2 Lindquist Beach (also spelled Lindqvist Beach)
A beautiful large beach with a sandy, sloping entry. This beach falls under the radar so it doesn't get the cruise crowds and rarely feels crowded. Snorkel on the right and you'll find lots of sea grass where turtles and rays like to play. Visitors can expect to see schools of fish, starfish, and maybe even a stingray. There are shallow rocky outcrops and coral on the left but it has to be calm and isn't always accessible. Great hidden gem swimming and snorkel beach in St. Thomas when you're looking to get away from the crowds.
Parking and Amenities
There is a parking lot on site and charges a fee. There are bathrooms, a shower, and changing area, lifeguards, a small snack bar, and chair rentals.
#3 Secret Harbor Beach
A quiet resort beach that has a great beach with better-than-expected snorkeling. Visitors can expect to see schools of fish, sea urchins, and possibly even octopuses. This beach has a sandy shoreline with palm trees, chairs, and hammocks but be aware there are some larger rocky areas near the entry. They even have a floating raft in the middle of the bay for swimming fun. Snorkeling is very good along the left side near the docks and from there toward the middle of the bay. Also, there is more to see along the rocks on the right side making this a versatile snorkeling location.
Parking and Amenities
This beach is located on the east end of the island in the Secret Harbor Resort. Parking and access are free but public beach parking is limited to spot numbers 21-24 within the employee parking lot (up the hill) so it takes some searching. Tip: there are far more parking spots available for the restaurant so if you're in a pinch buy a drink and get more options for parking.
As for amenities, the chairs on site are free, and there is no gear rental. The beach restaurant Sunset Grille has a large deck overlooking the beach and a full food and drink menu. There is a bathroom in the restaurant but no shower/changing area for the public.
Bonus
Stay until sunset and catch some of the best sunset views on St Thomas.
#4 Brewers Bay Beach
This beach is closest to the airport and located on and maintained by the University of the Virgin Islands campus but it quickly transports you into a different world. This is a quiet beach, frequented by locals with crystal-clear water and various marine life. Visitors can expect to see colorful fish and starfish and is known for the spottings of Green Sea and Hawksbill sea turtles. Entry to the beach does have shells but the rest is sandy. There are no coral reefs at this location.
Parking and Amenities
Admission is free. Parking is limited and there is only street parking at this beach. If taking a taxi you should arrange for the return pick up as there aren't usually taxis near Brewers Bay. There are bathrooms, a shower/changing area, and there are frequently local food trucks. There are no gear or chair rentals.
#5 Lindbergh Bay Beach
This beach is located very close to the airport making it a great stop before a flight or if there's a flight delay. This is also a great St. Thomas beach for teens and kids as there is a water obstacle course that's fun and provides a change. It's a smaller, protected, and often, uncrowded beach. For snorkeling, it has a variety of marine life and visitors can see schools of fish, sea turtles, and stingrays but you will not see as much as you would at locations with reefs. Emerald Beach Resort is located on the east side of this beach and sometimes the names are used interchangeably.
Parking and Amenities
There is no entry fee and plenty of free parking along the side of the road along the beach or in the gravel lot. Amenities include restrooms, a restaurant, and a beach bar. There are lifeguard services at varying times and a children's playground. In addition, there is a Splash Zone Aqua Park and jetski rentals onsite operated by CTC Charters and Tubes for an additional fee. This area is sectioned off by buoys so snorkelers aren't impacted. This beach is only a 5 min taxi away from Crown Bay Marina cruise port.
#6 Sapphire Beach
This relaxed beach is located just down the coast from Lindquist Beach on the east side of the island. It is a great spot for snorkeling with clear waters and diverse marine life. There is a small rock ledge with reefs off the right side of the beach where snorkelers can expect to see larger schools of fish, elkhorn and fan corals, rays, and maybe even sea turtles. This is a great spot for kids as seeing the reef doesn't require a far swim from shore. For adults, there is still excellent snorkeling off the point but this can bring rougher waters on a windy day. There is some shade coverage on the right side of the beach lined with sea grape trees.
Parking and Amenities
There is a parking lot available for free. Amenities include restrooms, a beach bar, and a restaurant. There is also a water sports rental shop for chairs, snorkel gear, windsurfing, and kayaks. The Sapphire Beach Resort is also onsite.
#7 Magens Beach
This is one of the world's most beautiful beaches along St. Thomas' north coast. This beach is large but can be quite crowded with tourists and those coming off cruise ships for the day. The snorkeling is best off the east end for access to the reefs with sea turtles liking the middle of the bay. There are better spots for snorkeling in St Thomas but we include Magen's Beach it's a beautiful spot to enjoy the beach, with good amenities in addition to snorkeling. The restaurant onsite gets crowded quickly and wait times can be long.
Parking and Amenities
There is an admission and parking charge. Check here for the latest information. There are gear rentals, bathrooms, shower/changing area, lifeguards, food concessions, and restaurants.
#8 Hull Bay Beach
This beach is located on the north end of the St. Thomas. This off-the-beaten-path beach is frequented by locals and very few tourists. The entry has some rocky areas so it can be not as ideal for children although there are some sandy entry areas as well. You'll find a reef about 40 yards out from shore at mid-point and extending to the right. To see the best coral heads and larger fish you'll need to go out about 100 yards from the shore.
Sometimes sea turtles can be spotted near the buoys. There are often fishing boats moored in the bay so wearing a bright color can be helpful to be seen. Hull Bay is also one of the few surf beaches on St. Thomas that is best from November to March.
Parking and Amenities
It can be a bit out of the way to get here but there is free parking in a dirt lot close to the beach. Using "Hideaway Hull Bay" for Google Maps can help for navigating. There are no public restrooms, changing facilities, or chair rentals on the beach. There is food at a beach restaurant called The Shack or at The Nomad. Across the road from the beach is a dive shop St. Thomas Scuba and Snorkel Adventures which can rent snorkel gear, surfboards, and paddleboards as well as provide tours.
The Best Snorkel spots near St. Thomas
St. Thomas snorkeling is great but some of the best locations are a short boat ride away. These day trips can also be a great way to dodge the crowds on heavy cruise ship days.
#9 Honeymoon Beach on Water Island
The water at Honeymoon Beach is crystal clear and offers a relaxed vibe and some good snorkeling opportunities. The beach has palm trees and a gradual sandy entry perfect for swimming and snorkeling. This location is a great way to get away from the crowds on St. Thomas if it's a busy cruise ship day. Water Island is of volcanic origin and is the fourth-largest US Virgin Island. Visitors can expect to see a variety of marine life, schools of fish, coral reefs, and sometimes sea turtles. Great beach for kids.
Getting there
To get to the beach, visitors will need to take the Water Island ferry from St. Thomas. The small ~20-person boat departs from Crown Bay Marina near the dock right in front of Tickles Restaurant. It's an easy 10-minute ferry ride and tickets are bought directly from the driver cash only. Check here for the latest times and pricing. Once on Water Island rent a golf cart from Rachael's (reserve in advance during busy season) or take the free open-air safari/trolley provided by Dinghy's Beach Bar from the ferry port to the bar which is on Honeymoon Beach.
Amenities
Dinghy's Beach Bar has great food and drinks along with snorkeling gear and other rentals. There are restrooms on-site as well. There is often live music and complimentary beach games.
#10 Buck Island National Wildlife Refuge
The protected wildlife refuge of Buck Island National Monument sits 1.5 miles off St. Croix's northeast coast and is best known for its coral reef ecosystem and excellent snorkeling. There is a marked underwater trail that snorkelers can follow. The island itself is uninhabited but in the surrounding waters is where you'll find some of the most diverse marine wildlife along with endangered and threatened species. Visitors can expect to see schools of brightly colored tropical fish, coral reefs, and a variety of sea turtles. On the island's western end, you'll find Turtle Cove which is consistently rated as one of the top 10 beaches in the world due to its pristine white sand and clear turquoise waters. In Shipwreck Cove is where you'll find a 190ft freighter Cartanza Senora wreck that is regularly visited by stingrays and turtles. It sits at about 40 feet deep water but due to the water clarity, it can be seen by snorkelers. The national park service requires brightly colored flotation devices to be worn by all those snorkeling and tour guides who provide them.
How to get there
To get to Buck Island, visitors will need to take a boat or book a tour. There is no park entrance fee to Buck Island other than the cost of the tour. The trip from St. Thomas will take between 40 minutes to 1 1/2 hours to get there and then time to snorkel and explore based on the length of the charter. There are no accessible facilities on the island available and only day trips are allowed from the water.
#11 St Thomas' Mangrove Lagoon and Cas Cay
Mangrove Lagoon is a web of small islands, red mangroves, and includes Cas Cay, an uninhabited wildlife sanctuary island. The mangrove lagoon can be found at the southernmost tip of St. Thomas and is where this coral and shell rubble barrier reef divides the lagoon and the Caribbean Sea. Expect clear, calm water that is perfect for kayaking, hiking, snorkeling, and spotting local wildlife in the mangrove. Snorkeling the coral-fringed mangrove area is perfect for beginners. While snorkeling you'll see volcanic rock buried beneath the water that provides great hiding spots for the fish. These tours also allow you to hike and explore Cas Cay, a beautiful, uninhabited island complete with tidal pools, volcanic cliffs, and a geological blowhole. This is a mostly untouched area of St Thomas you don't want to miss.
How to get there
The mangrove is located on the southern coast of St Thomas and it is a protected wildlife sanctuary and marine preserve. Visiting with a tour group is best and Virgin Islands Eco Tours is the recommended provider. Tours depart from Mangrove Lagoon Marina on St. Thomas. If you prefer to go on your own they also rent kayaks, stand-up paddleboards, and snorkel gear from this Mangrove Lagoon location.
Amenities
The VI Eco Tours provide kayaks and snorkel gear but there are no other amenities on site so pack in, pack out is recommended.
#12 Thatch Cay
Thatch Cay is one of the last privately held, undeveloped islands in the U.S. Virgin Islands. It is a 230-acre island a half-mile off the northeastern coast of Saint Thomas. There is a well-known dive site off the northwest point that includes archways, tunnels, interesting coral formations, and an abundance of tropical fish. The untouched waters for snorkeling off Thatch Cay include magnificent coral reefs, seagrass beds, and an abundance of colorful tropical fish. Depending on the time of year views of dolphins, sea turtles, and the annual migration of humpback whales and sea birds may be possible. Be aware that there can be strong currents and consider tethering if visiting on a strong day.
Note: if you're scuba diving there are black rock arch tunnels off the north side of Thatch Cay that provide an unforgettable dive experience. These lava tubes are indicative of the volcanic origin of the islands. Divers have been known to see bright cup corals and sponges while they move their way through the tunnels, past big boulders and gorgonian corals. There can be parrotfish, trumpetfish, butterflyfish, and schools of silversides.
How to get there
It's a five-minute boat trip but if you don't have a boat consider a day charter or snorkeling tour. You can group multiple stops and it's a great way to experience the best snorkeling locations off of St. Thomas.
Snorkeling St. John
St. Thomas is very close to St. John where there are great snorkeling spots as well. A few noteworthy locations are below but there are many more.
#13 Trunk Bay
In US Virgin Islands National Park there is a National Park Underwater Trail that can be fun. The trail starts at Trunk Bay which is a beautiful beach for exploring. Visitors will find underwater trail markers as they swim along the coral reef. It's close to the shore and good for kids.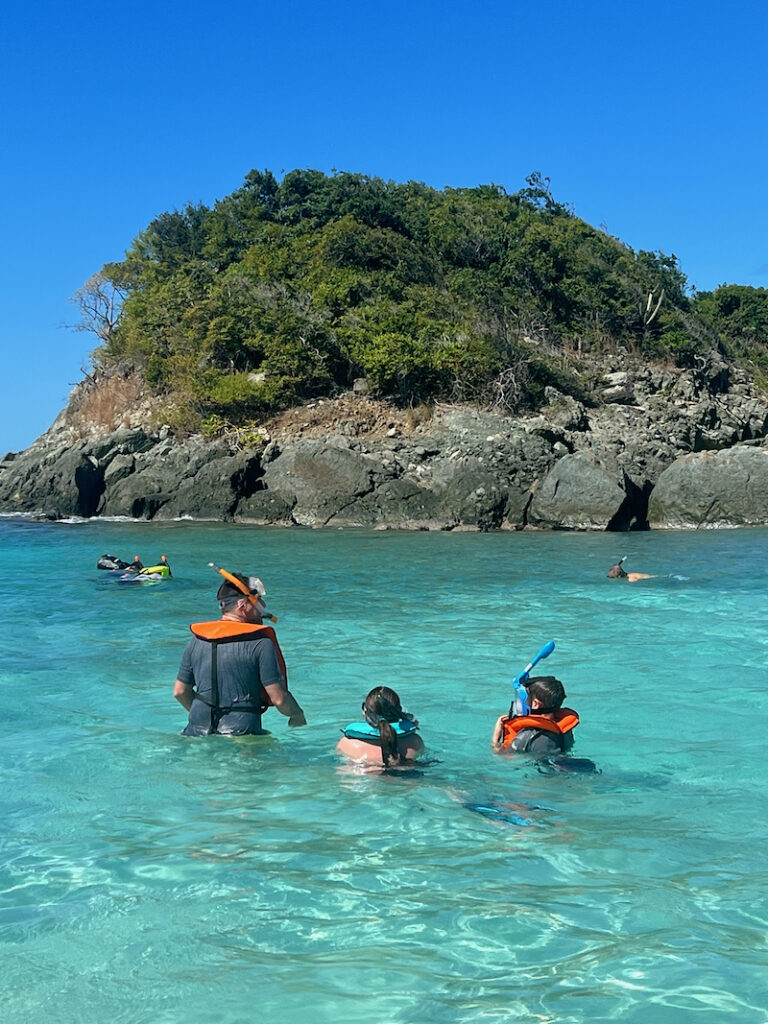 #14 Waterlemon Cay
This small cay offers cushion starfish, turtles, and a variety of marine life. Getting there requires a 1-mile hike that is short and flat along Leinster Bay. This location requires a swim to reach the best snorkeling area. A flotation device is recommended at Trunk Bay and this may not be the best for small kids or beginners. There are different entry points many rocky. If you walk close to the end of the point and enter across from the white buoy it's a shorter swim to the western edge of the cay. At the end is the shortest swim point but there are sea urchins present that can avoided by going in just before the end. The Annaberg Plantation ruins are also near the parking.
#15 Cinnamon Bay
There is a small cay off the beach that has large rock crevices that are home to coral and many different fish types. Also on site are the Cinnamon Bay Campground, snorkel and gear rental stand, and food truck.
How to get to St. John from St. Thomas
The ferry to St John leaves from either Red Hook or Charlotte Amalie (less reliable) and takes 30-40 minutes. There are passenger or vehicle ferries available and no advance reservations are needed. St John offers US Virgin Islands National Park and less crowded beaches. Once on the island, there are taxis or rental cars.
What to know when planning a trip to St. Thomas
How to get to St. Thomas
Cyril E. King Airport (STT) is the main airport on the island and flights arrive from the United States, Europe, and the Caribbean. The airport is located two miles west of the capital city, Charlotte Amalie.
Do Americans need a passport to visit St. Thomas or the Virgin Islands?
No, Americans do not need a passport to visit the islands of St. Thomas, St. Johns, or St. Croix that make up the US Virgin Islands. They do however need a passport to visit the British Virgin Islands, even on a day charter so plan ahead if you plan to visit the BVI.
Are car rentals difficult to find when visiting St. Thomas or St John?
Car rentals are in short supply on St Thomas. It's a good idea to check whether one is available before booking a trip. Book a car rental as soon as you know of your trip because during peak travel times car rentals can be in limited supply.
Are there requirements on sunscreen that can be used in the US Virgin Islands?
To protect yourself and marine life, only use non-nano mineral sunscreen containing zinc oxide and titanium dioxide. As of March 2020, sunscreens that contain the "Toxic 3 Os" including oxybenzone, octinoxate, and octocrylene are prohibited in the USVI. Here are some recommended non-nano mineral-based sunscreens. Wear a sun shirt and use reef-safe sunscreen to protect all the exposed parts of your body.
What spots are best for snorkeling in St. Thomas?
The best snorkeling spot in St. Thomas needs to be shared by three locations. Coki Beach has the most large groupings of different kinds and fish but this beach is also small and can also come with crowds. Also, acknowledging that many of these fish are here because humans are unfortunately feeding them. We also found Secret Harbor Beach to have great snorkeling paired with nice amenities for families as it's a resort location. If you are looking for an untouched beach, great snorkeling, and few people check out Lindquist Beach.
What to pack when Snorkeling in St. Thomas
Before embarking on your snorkeling adventure in St. Thomas, it's important to pack the essentials. Although renting snorkel gear is possible if you will snorkel more than once it's a good idea to bring your own gear so you know it fits and you don't need to spend time finding and renting. Here is a packing list of things you should include for a St. Thomas snorkeling adventure.
Snorkel and mask: A high-quality mask that fits well and provides a clear view underwater. The snorkel breathing tube allows you to breathe while your face is submerged.
Snorkel Set for Adults and Teens
We found this set easy to pack and good overall quality. Swim fins are nice to have but not essential if you're tight on packing space.
---
Snorkel Set for Kids
A great set for kids who are comfortable in the water and willing to learn how to breathe through the mouth piece.
---
Water shoes — these shoes can really help if you're not wearing fins and the entry is rocky. Getting shoes with a sturdier foot base can help provide protection and be useful when there's a longer hike to the snorkel location.
Adult water shoes
Kids water shoes
Swimwear and Rash Guard— Opt for a comfortable swimsuit and consider a long sleeve rash guard for sun protection.
Women's rash guard
Men's rash guard
Kid's rash guard
Sunscreen — only reef-safe sunscreens are allowed in the Virgin Islands. These are two of our favorites. A list of other reef-safe sunscreens can be found here.
Caribbean Sol
Blue Lizard
Towel — Hotels and vacation rentals don't always offer beach towels so it can be nice to pack one just in case.
GoPro Camera and Accessories
GoPro Camera
Capture the stunning underwater scenery with a waterproof camera. The GoPro cannot be beat for ease of use and amazing underwater photos and video.
---
Snorkel vest — the extra flotation can provide added safety and peace of mind as well as greater protection for the reefs. They pack much flatter than standard flotation devices.
Adult Snorkel Vest
Kid's Snorkel Vest
Dry bag keep your belongings safe and dry by storing them in a waterproof bag. This is a nice to have and not essential but great to have a dry spot to store everything.
Waterproof phone pouches we like these waterproof phone cases for use on boats or when near water but prefer using the GoPro for complete underwater submersion and underwater photography without worry. But they do keep water out.
Underwater phone case is another great option we tested. We liked the secure fit and confidence that our phone would stay dry. The photography was good but not as great as the GoPro. The one drawback is it's a bit difficult to get the phone in/out but a great option if you don't want to invest in a GoPro.
Extras like Aloe, Fish ID card and Apple airtags for luggage tracking are nice to have extras. Don't forget snacks and a reusable water bottle. We love this one from ThermoFlask as it's insulated and comes with two different tops. By packing these essentials, you'll be well-prepared for an incredible snorkeling adventure in the waters of St. Thomas.
Lastly, if you try any of these 15 Best St. Thomas Snorkeling Spots let us know which one you like best. Also, check out our Instagram story highlight for the USVI with travel tips. If you're looking for other things to do in St. Thomas read this one to see which things to try vs skip.
Pin it to save for later!