If you're looking for things to do in St Thomas USVI you've come to the right place. St Thomas is said to be the gateway to the Caribbean and with its 40 pristine beaches, it offers so much to do. We'll give you 18 of the top things to do in St Thomas and five you can skip. Whether you're visiting during a cruise ship stop or planning to stay in the virgin islands longer, St Thomas has so much to offer. Check out this list of the best things to do in St Thomas for and let us know if you agree.
Disclosure: when you buy through links on our site, we may earn an affiliate commission at no additional cost to you. We only recommend products we would use ourselves and all opinions expressed here are our own. Read more about our privacy policy.
A quick note about planning things to do in St Thomas. The crowd levels at various locations throughout the island will vary based on the cruise ships planned to be docked for the day. If you're planning to visit a popular attraction it's a good idea to check the cruise schedule in advance. It's also good to know that all beaches in St Thomas are public so you can visit resort beaches as well as any recommended here.
18 Things to do in St Thomas, US Virgin Islands
#1 Secret Harbor Beach for Snorkeling
This is a great spend-all-day-beach that is a part of the Secret Harbor Resort (remember all beaches are public!). This beach has amazing snorkeling right from the beach as well as a swim platform kids and adults love. Make a reservation at the Sunset Grille restaurant just before sunset and the views are stunning.
No fee. Parking is limited to only four spots for public beach access but if you plan to dine or grab drinks at the restaurant there is more restaurant parking.
#2 Hop a ferry to Water Island
When it's a busy cruise ship day the easiest way to dodge the crowds is to hop the ferry to Water Island. This is one of our favorite things to do in St Thomas. Water Island is a short 10-minute passenger ferry ride (no cars) that leaves in front of Tickles Dockside Pub in Crown Bay Marina. Find the ferry schedule here.
When you arrive you can rent a golf cart from Rachel's Rentals or contact her to reserve in advance. Honeymoon beach is the main draw and Dinghy's Bar provides a shuttle service between the ferry dock and Honeymoon beach if this is all you're going for. Dinghy's is a great restaurant for lunch after exploring the island.
We started with Fort Segarra which is an unfinished WWII fort with underground tunnels. It's unmaintained and dark so you have to be careful and have a flashlight (phone works). If you're short on time this can be skipped but it's a fun adventure to find the entrances and there's a decent lookout spot. Limestone beach was a favorite stop for our kids who loved exploring and looking for sea glass. It's a short 5-minute hike through the woods to a rocky secluded beach.
#3 Illuminated Night Kayaking Tour
These night kayaking tours are illuminated by LED lights so you can see sea turtles, rays, fish, and other marine life through your glass bottom kayak as you're directed by a guide. These tours leave from many of the resorts located on the southeast end of the island. Check out these Viator tours.
#4 Coral World Ocean Park
A marine park for families that focuses on conservation and education. View the marine life on a coral reef from the unique undersea observatory. This is great for young kids or those who aren't able to snorkel to be able to experience the underwater world. There are a number of exhibits and hands-on activities included with general admission. There are also add-on experiences such as kayaking with dolphins, swimming with sea lions, and more for an additional cost but we didn't do any of these and found it was still worth it. Find more info on visiting Coral World.
#5 Coki Beach
Coki Dive Center is the premier snorkeling and dive site on St Thomas. There is snorkeling and scuba diving easily accessible from the beach which makes this a popular location. We had some of the best snorkeling of our trip here as there are larger schools of fish and lots of variety in what you'll see. The downside is the beach itself isn't that large so when it's a busy cruise ship day it can feel crowded. No entrance fee and rentals are available.
#6 Paradise Point and the Skyride
The easiest and most scenic way to get here is to ride the Skyride 700 feet above St Thomas Harbor. This gondola brings visitors from the east end of Charlotte Amalie to the viewpoint. There are some souvenir shops and a bistro restaurant at the top as well. Paradise Point is also where you'll find Prime at Paradise Point a highly-rated restaurant with the best views on St Thomas.
Tip
The Skyride sometimes is limited to running only when cruise ships are docked so keep this in mind. You can also drive to this lookout. There is an unnamed, windy, narrow road that begins near the Pirates Treasure Museum and ends at Paradise Point.
#7 Lindquist Beach
This beach on the east side of the island is part of a protected 21-acre area called Smith Bay Park. It has crystal clear, turquoise water perfect for swimming. Looking west of the swimming area includes a very shallow area with tide pools. This beach was willed to the Virgin Islands after private ownership. This beach does not often attract cruise ship visitors as it's more secluded and often less busy. This is one of our favorite hidden gem beaches in St Thomas.
There are some snorkeling areas that are mainly sea grass so best for spotting sea turtles and rays but no coral reef. There is a fee to enter as well as chair rentals and changing area.
#8 Magen's Bay Beach
Frequently rated one of the best beaches in the world with over 3,500 feet of white sandy beach. This bay is surrounded by beautiful mountains and crystal-clear water that make it ideal for swimming. This is one of the most popular spots on the island so it can be very crowded especially when it's a busy cruise ship day. There is a fee to enter and there are restaurants and concessions onsite. A water sports booth rents paddle boats, kayaks as well as chair rentals. This beach has a lot to offer but is not known as a snorkeling beach.
In addition, Magen's Bay does offer an "AccessMat" along with beach-friendly wheelchairs to provide those physically disabled easier access to the water.
There is also Magen's Bay Beach hiking trail which is a 1.8-mile out-and-back trail rated as moderate.
#9 Tropical Treasure Hunt
This is a fun way for families with kids to engage and see the island. They give you clues and you have to find the treasure chest on the island. You'll learn some pirate history and other fasts about St Thomas along the way. Great if you have time at the cruise port (within walking distance) Find more information here.
#10 Walking Tour of the Historic St Thomas
Learn more about the architectural highlights of St Thomas and its history as a premier trading port. The walking tours are 2-3 hours long and need to be reserved in advance. Find more information here.
#11 Check out the History of Hassel Island
This island was once a peninsula of Saint Thomas named "Orkenhullet" and the historic 135-acre property is maintained by the National Park Service and the St. Thomas Historical Trust. Email for reservations and the cost includes the short boat ride to the island.
#12 Virgin Islands Eco-Tours
Check out their guided kayak, hike, and snorkel trip to Cas Cay. You can venture through a mangrove lagoon marine reserve, see a hermit crab forest, volcanic cliffs with tidal pools, and the Red Point geologic blowhole. They also offer kayak and stand-up paddleboard rentals. Find the tours here.
#13 Tree Limin' Extreme Zipline
If you're looking for something unique to do that is not a beach visit this is perfect for those who love an adrenaline rush. There are six zip lines and two sky bridges that send you through the Caribbean jungle with the best views of St Thomas. There are also eight aerial platforms to take in the scenery. It is spendy but likely an experience you won't forget.
Check it out here.
#14 Plantation Crown and Hawk Botanical Garden
This is such a great stop if you're looking for something non-beach-related to do in St Thomas. It's perfect for a relaxing morning or a stop before catching a flight. They have a walking path through the gardens where you'll also encounter peacocks, koi fish, parrots, iguanas, and tortoises along the way. A highlight was seeing orchids growing in the forest. There are beautiful overlooks as well as bathrooms, a gift store, and drinks available onsite. Fees and more info can be found at Plantation Botanical Garden.
is another option if you're looking for other gardens or places to walk. We didn't have time to check out both but make sure to check their location if you're interested in visiting as they note Google Maps doesn't direct to their location. Overall, we found google maps to be great throughout the USVI but sounds like it won't get you there for this location.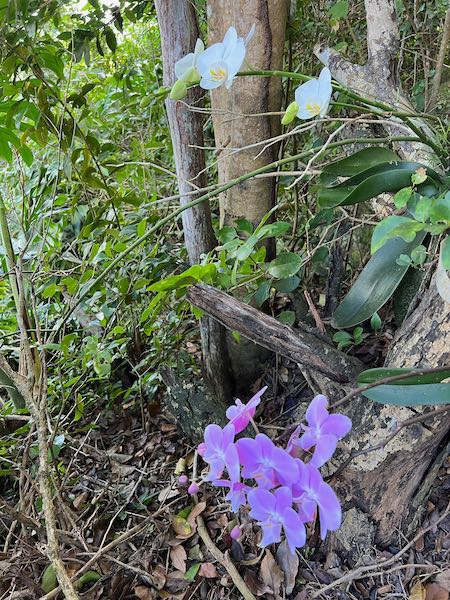 #15 Shopping in St Thomas
St. Thomas is known for its shopping. Hundreds of duty-free shops line the streets and alleys.
Palm Passage in Charlotte Amalie is within the historic area with upscale shops and an outdoor cafe centered around an open cobblestone courtyard. Definitely, the best part is wandering down the alleyways.
In addition, the duty-free Havensight Mall is located near the West Indian Company dock where the cruise ships dock. This is the largest shopping area with over 100 duty-free shops and boutiques within walking distance for those coming off a cruise ship. You can find everything from jewelry and watches to shipwreck coins and rum.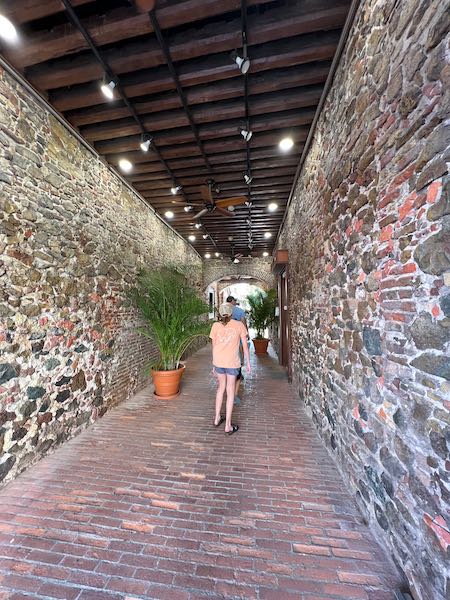 #16 Check out the Views at Mountain Top
This is definitely a touristy stop but if you're looking for a great view of Magen's Bay and the surrounding cays along with a place to have a cold drink this is your place. It has a massive gift shop with a bar at one end that serves "world-famous" banana daiquiris. We skipped this one and did the Charlotte Amalie Overlook which overlooks Charlotte Amalie, Water Island, and Hassel Island. Both are great as is Paradise Point for views.
#17 Day Charter to Buck Island National Wildlife Reserve
If you're looking for great snorkeling and want to see turtles this is an amazing day trip from St Thomas. The national park service has protected this island for over 50 years and it is home to many endangered and threatened species.
A day charter is the best way to access the reserve and the trip there is between 40 minutes to 1 1/2 hours, depending on whether you sail or motor to get there. We recommend the highly rated VI Cat that leaves from Marriott's Frenchman's Cove.
Once at Buck Island Reef, there are reefs to snorkel, an underwater trail, a shipwreck, and turtles at Turtle Cove.
Reminder: Buck Island is a marine protected area. Visitors are not allowed to remove anything and sea turtles are a protected species. It is against the law to touch a sea turtle in the Virgin Islands and comes with a large fine of up to $5,000 and up to six months in jail if you are caught.
#18 Visit one of the oldest Synagogues in the Western Hemisphere
Hebrew Congregation of St. Thomas has an amazing history and gives tours to the public. It is the oldest synagogue building in continuous use under the American flag and the second oldest in the western hemisphere. It has a sand floor and sits atop a hill with a beautiful view.
Find more information here parking can be challenging in this area.
5 stops in St Thomas to skip if you're short on time
99 Steps
This is said to be one of the most distinguishable landmarks in St. Thomas but unfortunately, there's not much to see. The steps are not in good condition and there's nothing more than broken steps and overgrown landscaping. Blackbeard's Castle is near the top and is one of the island's three National Historic Landmarks but it is currently closed for renovation. Check back to see when this changes.
Fort Christian
This is a national historic landmark and the oldest standing structure in the US Virgin Islands. Worth a view from the outside but the tour could be skipped if you're short on time.
Pirate Treasure Museum
This is one that's frequently only open when cruise ships come in and it seemed more promotional than museum-like. We skipped it but if you have more time it's right near the cruise port.
Drake's Seat
There are lots of great viewpoints that are easy stops. This is just a bench that looks out over the north side of St Thomas but the area is frequently overgrown and the road pull-off is more difficult than other viewpoints. The Charlotte Amalie overlook, Paradise Point or Mountain Top are all close by.
Children's Museum
If you get the rare rainy day this may be worth a stop but otherwise, we always pick nature's playground. If you're looking for a place close to the cruise port for kids to play indoors this is within walking distance. Find more information here.
What to know about planning a visit to St Thomas
How to get around in St Thomas
A rental car is the easiest way to get around in St Thomas. Rental cars can be difficult to find during peak times so reserve as far in advance as possible. We used the local company Discount Car Rental which had great service and much lower prices than the national US brands.
Taxis are also common on St Thomas and a great option for those visiting on a cruise. Taxis are not metered and rates are per person and by destination.
Reminder: they drive on the left throughout the US Virgin Islands including both St Thomas and St John.
Where to stay in St Thomas
We like staying near Red Hook on the east end. There are quite a few resort options in the area as well as vacation rentals and it's easy to access the ferry to visit St John as well.
Find Vacation Rentals in St Thomas
We stayed in this AirB&B and loved its location and access to the Elysian Resort amenities that included a pool as well as a quiet beach with restaurants all within walking distance.
Lastly, we hope this guide for things to do on St Thomas has been helpful. Whether you are looking for things to do during a visit from a cruise ship or are staying on St Thomas for a vacation there is so much to do.
Frequently Asked Questions
Is there a fee to visit most St Thomas beaches?
There is often a small fee to visit public beaches on St Thomas. This usually is $5 per person for non-residents 12 years and older and a $2 parking fee if you came in a vehicle. Check current rates before a visit.
What side of the road do they drive on in St Thomas?
They drive on the left but because the vehicles come from the mainland US the steering wheel is still on the left side. Roads can be very narrow with little to no should so always stay left!
Do Americans need a passport to visit the Virgin Islands?
No, Americans do not need a passport to visit the islands of St Thomas, St Johns, or St Croix that make up the US Virgin Islands. They do however need a passport to visit the British Virgin Islands even on a day charter so plan ahead if you plan to visit the BVI.
Is there a law about what sunscreen can be used in the USVI?
To protect yourself and marine life, only use non-nano mineral sunscreen containing zinc oxide and titanium dioxide. As of March 2020, sunscreens that contain the "Toxic 3 Os" including oxybenzone, octinoxate, and octocrylene are prohibited in the USVI. It works best to wear a long sleeve SPF sun shirt to limit the amount of sunscreen needed when near the reefs.
Here are some recommended non-nano mineral-based sunscreens.
How Do I get to the British Virgin Islands from St Thomas?
Unfortunately, since the pandemic, the British Virgin Islands has made it more difficult for non-residents on day charters to visit. The customs check can take anywhere from 1.5-3 hours to wait and they charge $80 per person in addition to the cost of the day charter and fuel. All visitors to the British Virgin Islands require a valid passport. We checked with a few different day charters to BVI and they all were over $2,000 for a full-day trip for a family of five. We decided to maximize our time and save on the expense and do a day charter around St John. It was great snorkeling, no customs wait time, and an amazing day.
What is the famous drink in the virgin islands?
Painkillers. It's a blend of rum with different fruit varieties with some nutmeg. A painkiller is less sweet than a piña colada.