If you're planning a trip we'll give you 18 unique things to do in Las Vegas with teens that are sure to impress. Vegas is packed with fun things to do for all interests and it has so many Instagrammable locations they'll love. Also, if you're looking for things to do in Vegas besides gambling or drinking this will give you ideas. So whether you'll be visiting Vegas with teens, tweens, or younger kids we have you covered. We'll give you the most unique, safe, and fun things to do in Las Vegas.
Disclosure: When you buy through links on our site, we may earn an affiliate commission at no additional cost to you. We only recommend products we would use ourselves and all opinions expressed here are our own. Read more about our privacy policy.
Most Instagrammable Spots in Las Vegas
So many of the best things to do in Vegas are also very Instagrammable so you'll see these locations throughout our list and we'll provide any tips for getting the best photos.
#1 Meow Wolf Las Vegas
3215 S. Rancho Drive #100 Las Vegas NV 89102
Meow Wolf is an immersive walk-through art exhibit that is themed after a grocery store but is anything but ordinary. It's great for all ages and is described as a "journey through surreal worlds, immersive storytelling, and playful nuggets of the imagination". To get started, find an Omega Mart employee and ask for a 'boop' card. I don't want to ruin any surprises, just ask them how to get started. Also, there is a slide experience that does require closed-toe shoes among other requirements, so check the details for what they don't allow you to bring in here. Meow Wolf is within AREA15, an entertainment destination that has everything from axe throwing, zip-lining, virtual reality and so much more. AREA15 and Meow Wolf can provide endless entertainment. AREA15 is 21+ after 10 pm, but Meow Wolf is open to all ages anytime and is also great for younger kids.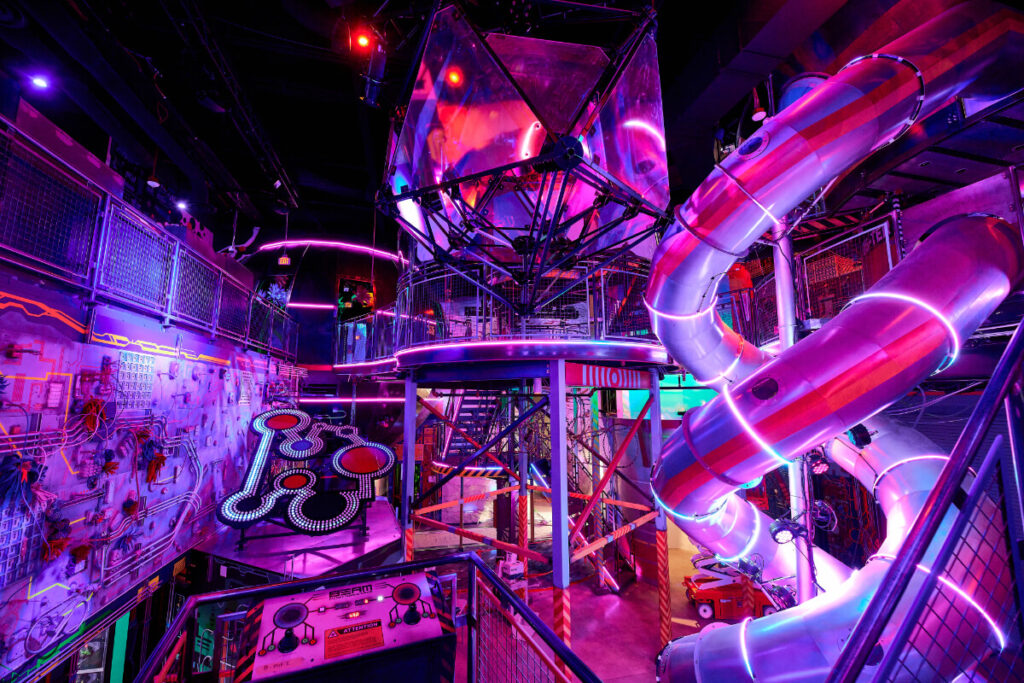 #2 The Welcome to Fabulous Las Vegas Sign
5200 Las Vegas Blvd S, Las Vegas, NV 89119
There's no better way to commemorate a trip to Las Vegas than a snap at the historic Welcome to Fabulous Las Vegas sign on the strip. Go early to avoid the crowds as a line forms quickly. This is also an easy stop to or from the airport.
#3 & #4 Street Art, Murals, and Container Park
707 E Fremont St, Las Vegas, NV 89101
There have been great revitalization efforts and a cultural resurgence in Downtown Las Vegas. The area boasts colorful street art, murals, and hidden gems you won't find in any other part of the city. Start at the Container Park where you can find oversized yard games, fun shops, live music, restaurants, and a unique playground for kids. This is a good starting place for hunting for murals and street art and if you're there at sunset you can catch the drum ceremony and fire-breathing mantis right in front of the Container Park.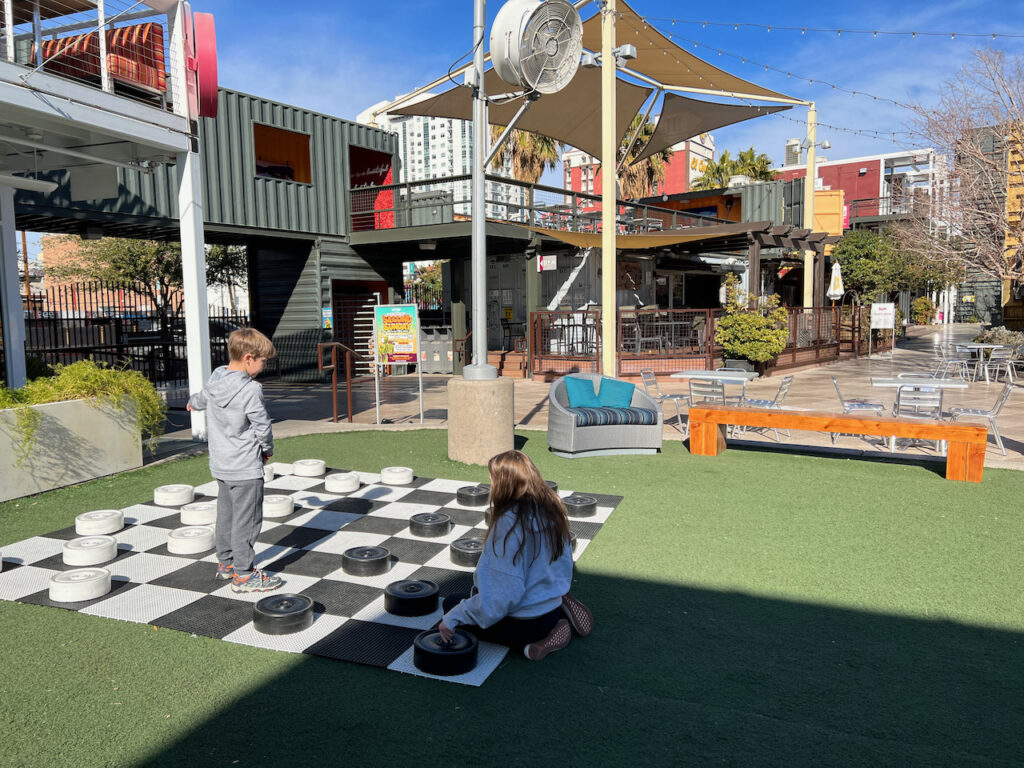 #5 Fremont Street Experience
The Fremont Street Experience has free light shows and live music every night your teens will love. It's an entertainment behemoth, but can be sensory overload. You can experience the largest video screen in the world or take a ride on the SlotZilla zip line. Those under 21 are welcome except on First Fridays special event nights when it's 21+ with more restrictions.
#6 Neon Museum
770 North Las Vegas Blvd Las Vegas, NV 89101
A unique and fun way to view the history of Las Vegas through a tour of the most iconic neon signs. One of the most Instagrammable locations in Las Vegas is the Neon Museum. Buy tickets in advance online. Although you can walk up and try, time slots often sell out days in advance. Only cell phone cameras are allowed. Free parking.
Tip when visiting both Fremont Street & the Neon Museum
Although the Neon Museum is in close proximity to Fremont Street, most people decide to Uber or drive as the walk between can feel a bit unsafe. Everyone's comfort level is different and it depends on whether it is day or night and whether you're traveling with others. Getting too far off Fremont Street you can find a high homeless/transient population.
#7 Symphony Park
361 Symphony Park Avenue, Las Vegas, NV 89106
If you need a quiet park to relax away from the crowds check out this colorful Instagram spot in downtown Las Vegas. The installation was created by artist Tim Bavington and is meant to symbolize a single note in Aaron Copeland's "Fanfare for the Common Man." There are other great sculptures and green spaces and it's also close to outlet shopping and the Discovery Children's Museum. There are so many unique things to do in Vegas with teens.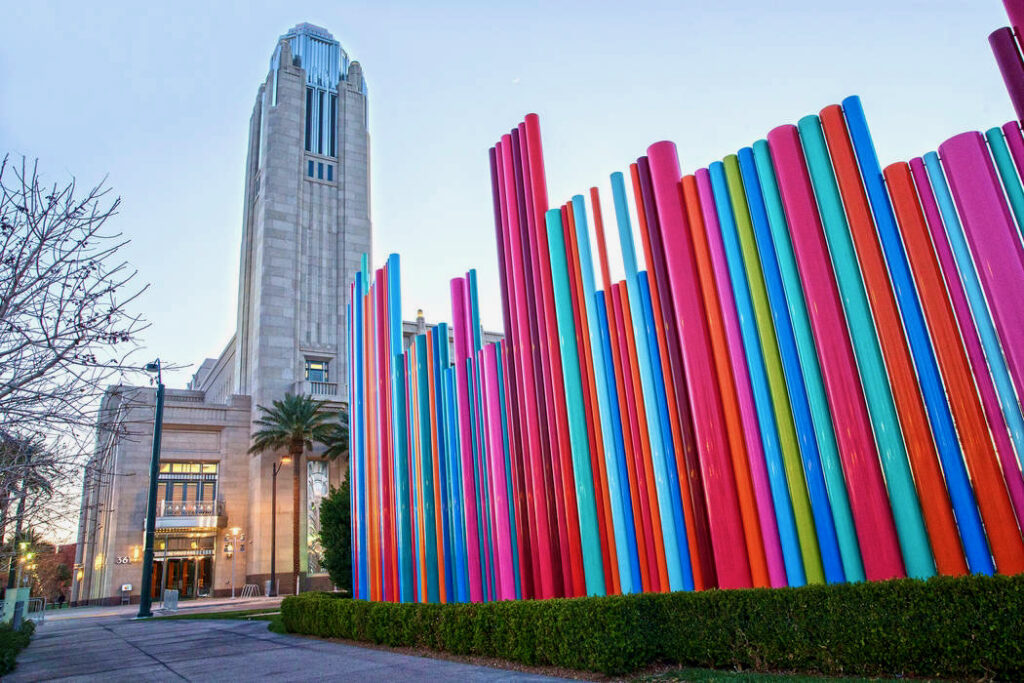 #8 Shark Reef Aquarium
Mandalay Bay is home to one of the largest aquariums on the planet. It holds more than one million gallons of water, 2,000 different animals, and an overwhelming amount of sharks. A simulated shipwreck can also be seen through a large viewing area as well as a walkthrough tunnel that allows visitors to feel immersed in the undersea world. For an added experience, check out Undersea Explorer virtual reality theater, a 360-degree motion platform. For more information and to reserve tickets check here.
#9 Conservatory at the Bellagio
To attract visitors to the strip most hotels have incredible lobbies and attractions, but the Bellagio tops them all. One of our favorite things to do with our kids in Vegas is checking out the hotel lobbies. In the Bellagio, there is a 14,000-square-foot botanical garden that is transformed spring, summer, fall, and winter with stunning displays including sounds, scents, and colors. There is also a special display for the Lunar New Year. There are some "dark days" the display is down for transitions so check here if you want to be sure to see it. Added bonus, they replant and repurpose as much of the living plants as possible in their commitment to sustainability.
#10 Bellagio Fountain Show in Las Vegas
This iconic show of water, music, and light comes to life beautifully in front of the Bellagio Hotel every half hour. Recommend saving this one for the evening as it's so much more fun at night. Showtimes vary from every 15-30 minutes, check fountain showtimes here. We stopped at Lolli & Pops a fun candy store in the Venetian before heading out to watch the show and my teen loved this.
#11 Cirque du Soleil
There are multiple Cirque du Soleil performances in Vegas to impress your kids and teens based on their interest level. There's always captivating aerial acrobatics as well as great music and dance choreography. A popular one is the "O" production named one of the best water shows in Vegas, as it features a million-gallon pool in a theater designed to look like an ancient European theater space. It's at the O Theatre at the Bellagio and the show is designed for children ages 5 and up and runs for about 90 minutes long. View the current Cirque du Soleil shows here or if you're looking for other shows for teens or kids in Vegas that are family-friendly check here.
#12 Tournament of Kings
Is a medieval-themed dinner and show that is fun for all ages. The show is arena-style with jousting and sword fighting with dinner served throughout the performance. Guests are encouraged to participate by cheering on the king representing their section. Knights go head to head in gladiator-style battles with horses, pyrotechnics, and great costumes. Learn more and reserve tickets here.
FlyLINQ and High Roller Wheel
Both of these attractions are located close together and in the heart of the Vegas strip. There are so many things to do in Vegas for teens, especially in this area. Can you see why Vegas can be amazing for teens and kids?
#13 FlyLINQ
Do you have teens or tweens who love an adrenaline rush? FlyLinq is the Strip's only zipline, and the best part is there are 10 side-by-side ziplines allowing you to experience it with others at the same time. Riders brave enough will launch from a 12-story tower and soar 1,121 feet from Las Vegas Boulevard, down The LINQ promenade and finish at the High Roller at speeds up to 35 mph.
#14 High Roller
3545 S. Las Vegas Blvd.
The High Roller is the world's largest observation "Ferris" wheel experience that is 550 feet up and there are 28 enclosed pods that fit 40 people in each. This is a great option for those who want to experience an amazing view of the city. The containers you ride in are actually quite large and it almost feels as if you're standing still and it takes 30 minutes to complete. Typically is open late afternoon through the evening so check details in advance here. The Las Vegas Monorail runs right in front of the High Roller with convenient stops at both the Flamingo and The LINQ.
Get Out of the City
Vegas is such a great base location for being able to get in some great outdoor adventuring only a short drive from the city.
#15 Seven Magic Mountains
S Las Vegas Blvd, Las Vegas NV 89054 (20 minutes South of the Strip)
This large-scale desert artwork can't be missed with seven giant totems, each towering over 30 feet tall, and painted in vibrant neon colors. This was created by Swiss artist Ugo Rondinone and was five years in the making. "(The work) evokes continuity and solidarity between the artificial and the natural and between the human and nature," Rondinone said of his artwork. Seven Magic Mountains is free and no reservations are needed.
#16 Hoover Dam
27953, 28689 Great Basin Hwy, Boulder City, NV 89005
The Hoover Dam is located approximately 30 miles southeast of Las Vegas, on the Nevada-Arizona border. There are multiple viewing locations, but we like the Mike O'Callaghan–Pat Tillman Memorial Bridge which is a striking arch overpass that raises 900 feet and connects Arizona to Nevada over the Colorado River. There's a free parking lot and easy walk (upstairs or ramp) up with educational information to take in along the way. Then you can walk across the bridge that overlooks the Hoover Dam to see the great views. You can also grab a photo by the Welcome to Nevada sign! There are other viewing locations such as the observation deck or visitors center, but some require a parking fee. There is a Hoover Dam inspection checkpoint one mile north of the dam and before entering all car windows need to be lowered and no firearms are allowed. Check out Lake Mead or Lake Mohave too while you're here!
#17 Valley of the Fire State Park
29450 Valley of Fire Hwy, Overton, NV 89040
The Visitor Center is located halfway between the east and west entrances on the Valley of Fire Hwy and you can check current hours and entrance fee information here. When parked at the visitors center don't miss the incredible rock formations, climbing, and great photo ops just behind the visitor center.
The must-do hike in the park is the Fire Wave (1.5miles, easy) where you'll see amazing sandstone formations that resemble a wave with swirling patterns of red, white, and pink sandstone. Petroglyph Canyon in the park is the most accessible way for visitors to view petroglyphs (0.8 miles, easy hike). White Domes is another great hike (1.1 miles, easy). This park could easily fill a day or more.
#18 Death Valley National Park
Death Valley is about 110 miles or 2 hours from Las Vegas. You can do it as a day trip, but I recommend staying over at least one night (2 or more are ideal) as the park has vast geography and a long list of amazing things to see. Also, depending on the time of year, the early morning times are the best time to visit the park due to the very high temperatures. There are various lodging options inside the park that will allow you to access the park more easily if you only have a short visit. The next closest area with accommodations is the town of Pahrump which is an hour from Las Vegas but over an hour from the park visitor center. There are amazing hikes, views, and stargazing in Death Valley. Learn everything you need to know about a visit to Death Valley and when to visit. Our teen loved Death Valley National Park as it has so many unique hikes with obstacles to challenge them.
Best hotels for kids and teens in Las Vegas
Vegas can be a sensory overload at times and we love having a great hotel to come back to that is comfortable and in a convenient location.
We highly recommend The Venetian Resort is a great option for staying in Vegas with teens or kids of any age. The Venetian Resort has two towers, the Palazzo and the Venetian, and both offer suites double the size of your average Las Vegas hotel room which is great for families. We like to stay on the quieter Palazzo side as the casino and action are on the Venetian side, but both are easily accessible as they're connected.
The Venetian has the Grand Canal Shoppes that offers unique shopping, restaurants, and an illuminated painted ceiling of clouds that changes from night to daylight. It's such a fun and safe area to allow teens a little space to explore if you're staying close by. You can also catch the gondola rides here.
Mandalay Bay can be another great hotel option and has a good pool for kids and teens. You can find other hotels in Vegas here.
Packing list for teens in Vegas
Comfortable shoes are a must in Vegas. We love Allbirds shoes for travel as they are comfortable and still look nice.
Sunscreen is a must as the desert sun is intense. Take a peek at our favorite one that's for your skin and our planet.
Staying hydrated. Las Vegas is a walking city and it can be so hot. Staying hydrated is really important. So pack the reusable water bottle this is our favorite.
When road tripping to Death Valley or Valley of the Fire we love to bring a cooler. This one packs flat in a suitcase if you're flying and is great for day trips.
Getting Around
You can easily do most things on this list without renting a car and just using Uber, cab, or walking. We like to have a car to get outside the city and see some of the amazing sights just outside Las Vegas. If you are going to rent a car, consider seeing if a peer-to-peer rental through Turo might be less expensive. Las Vegas has so many great options through Turo, but there are some things to know before booking. Check out our 8 Things You Need To Know Before Booking with Turo.
Most hotels are good about free parking if you're staying there so we didn't find parking to be an additional expense. There also is a monorail, we didn't use it, but it might be helpful for those visiting without a car.
Is Las Vegas worth it with teens?
We think Las Vegas has so much to offer for a trip with teens or tweens. With low airfare it's also a great launching off point to national parks in California or Arizona and so much more. We prefer shorter trips if just focused on the strip and downtown as it can be a lot to take in. We hope this helps you plan a great trip to Las Vegas with teens or if you're just looking for things to do in Las Vegas that are not gambling. Las Vegas is so much more than gambling and partying.