Hot springs in Iceland are where strangers meet. The people of Iceland have a very deep connection with geothermal activity that is centuries old, so it's no wonder there are so many geothermal pools in Iceland. Hot springs are a part of Icelandic culture and provide a place to connect or meet friends and family all year long. When you have amazing Icelandic scenery paired with a natural hot water source it makes for a perfect match for relaxing.
Why you ask are there so many hot springs and pools in Iceland? The answer to this question is twofold. First, Iceland falls across two tectonic plates called the mid-Atlantic Ridge as well as sits on top of an area of strong volcanic activity known as a hotspot. So it is this geothermal activity that helps naturally create so many hot springs. Also, most communities in Iceland have a local pool. There are so many pools because they were originally built to help locals take a required swim test to graduate school. This was due to frequent drownings that occurred at the beginning of the 20th century. Today, most Icelanders are able to swim, because swimming lessons are required for every Icelandic child. Everyone in Iceland has a local pool and most are open year around.
Disclosure: when you buy through links on our site, we may earn an affiliate commission at no additional cost to you. We only recommend products we would use ourselves and all opinions expressed here are our own. Read more about our privacy policy.
Overview of the best hot springs and geothermal pools in Iceland
If you're short on time here's our shortlist for how they stack up and you can jump to any for more info using the table of contents. You'll want to read on to find where each is located, how they differ, and all the details for visiting. Bonus, at the end we'll tell you where the free hot springs are and give you a map of all the hot springs in Iceland. The amenities and qualities for each on the list below vary greatly. Also, don't forget to check the tips on local etiquette before visiting.
The Best Hot Springs in Iceland
| Category | Hot Springs/Spa/Pool |
| --- | --- |
| First timers must-do | Blue Lagoon |
| The most difficult to get to | Landmannalaugar |
| Oldest location and most natural beauty | Secret Lagoon |
| Most Romantic without Kids | Sky Lagoon |
| Newest Geothermal Spa | Forest Lagoon |
| Longest Hike in Required with Big Payoff | Reykjadalur Geothermal River |
| Best Large Pool with a View | Hofsós Sundlaug Pool |
| Best Smaller Spa with Restaurant | Krauma Geothermal Spa |
| Best Unique Experience + Spa | Laugarvatn Fontana |
| Most Unique | Bjorbodin Spa "Beer Spa" |
| Best Hidden Gem | Grettislaug Geothermal Pool |
| Best Resort & Hot Spring | Hvammsvik Nature Resort |
| IG Photo Fail | Seljavallalug Pool |
| Highest concentration of free hot springs | West Fjords |
The Best Hot Springs in Iceland
Blue Lagoon (Reykjanes Peninsula)
In 2012, Blue Lagoon was named one of the 25 wonders of the world by National Geographic and soon thereafter it was on Time Magazine's list of the World's 100 Greatest Places.
If it will be your first trip to Iceland we recommend including the famous Blue Lagoon in your plans. It's the most popular geothermal pool location for a reason and offers a beautiful moss-covered lava field setting and a relaxing experience. There are separate day-visit levels with spa treatment options. There are also some private showering stalls available even at the base level day visit.
Blue Lagoon Location and Details
Blue Lagoon can be found on the Reykjanes Peninsula, in the southwest corner of Iceland. From (KEF) Keflavík International Airport to Blue Lagoon: 21 km / 13 miles / 15 minutes by car. From downtown Reykjavík to Blue Lagoon: 49 km / 30 miles / 50 minutes by car.
If you have time before or after your Blue Lagoon reservation check out the Fagradalsfjall Volcano site in Grindavik or any of these other nearby stops.
What makes it different: Blue Lagoon has a research center that studies the benefits of geothermal seawater as it relates to skincare, sustainability and so much more. They have a skincare line, multiple hotels on site as well as varying levels of restaurants, and everything centers around the pools. It's a very large setting with many different sections to the pool so it provides ample space to spread out and find a private corner to relax without it feeling like it's crowded. This is the most established geothermal pool with the most offerings you'll find anywhere in Iceland. It's also the closest geothermal pool to the airport.
Cost/Details – see here for current hours, pricing and to reserve in advance. Children ages 2-13 are free and kids 8 years and younger need to wear arm floats. The minimum age required for entering the water is 2 years old due to younger children being sensitive to the mineral content of the water. Lathering your hair with a conditioner before entering the water can help prevent the silica from making your hair feel dry afterward but it doesn't always work.
Blue Lagoon Fun Fact:

The water's iconic milky blue color is a result of the way that silica reflects sunlight. This geothermal seawater is made up of 70% ocean water and 30% freshwater.
Sky Lagoon Spa (no kids allowed) (Near Reykjavik)
This spa creates an incredible experience and ritual as a part of your time there that no other spa does in quite the same way. How you enter, the vast landscape, large pool areas giving space for relaxation and so much more. This spa just opened in 2021 but is already very popular. It offers incredible panoramic views when you're in the lagoon to create a relaxing, interesting experience. The ritual experience includes a sequence of soaking, cold plunge pool, sauna, cool mist, nourishing scrub, and rinse. There is also a hot steam room in addition to the hot pools and swim-up bar. There is a gourmet restaurant on-site as well as cafe items.
Sky Lagoon Location and Details
Sky Lagoon is located only a 15-minute drive from Reykjavík in Kársnes Harbour, Kópavogur. The spa does offer shuttle transfers from Reykjavik if needed indicate when booking.
What makes it different: It's a beautiful oceanside spa that includes a ritual experience that is different than any other spa. There are two tiers of changing facilities available if you want a private option. No children are allowed.
Cost/Details – see here for current hours and pricing. Unfortunately, children under the age of 12 are not permitted.
Hvammsvík Nature Resort (no kids – Southwest Iceland)
This is a family-owned resort located on 1200 acres of land in southwest Iceland. They offer eight outdoor hot springs of varying temperatures. Since it's positioned right on the Atlantic Ocean the water level and temperature of the natural pools vary with the tide. There are options for a day-visit to the hot springs or book accommodations to stay overnight for the full experience.
Hvammsvik Location and Details
It is located in Hvalfjörður in southwest Iceland only a 45-minute drive from Reykjavik. It is close to the Golden Circle, Glymur, Thingvellir, and Esjan. This natural area is the focal point that creates a truly amazing experience.
What makes it different: the resort offers overnight accommodations, as well as other activities in addition to the hot springs all within the large property. Things like stand-up paddle boarding, guided nature walk, and ocean swim, are free activities that can be grouped with a visit to the hot springs.

Cost/Details – see here for current hours and pricing. Unfortunately, children under the age of 12 are not permitted. Must reserve in advance.
Reykjadalur Hot Spring Thermal River (South Iceland)
The Reykjadalur steam valley is an active geothermal area that is known for this hot spring river. The hike to the hot springs is 5 miles (8km) roundtrip and is an out-and-back hike. There are steep hills (elevation 1,138 ft) to climb and in the winter months, it can be slippery and require crampons and hiking poles. There is beautiful scenery along the way with a great payoff of the hot spring river at the end of the hike. The higher up you go the warmer the water is and it can get quite hot so caution is advised.
Reykjadalur Hot Spring Location and Details
Near Hveragerði which is a 40-minute drive from Reykjavík.
What makes it different: if you're looking for adventure with a big payoff this is the one for you. Reykjadalur requires a 5-mile hike (out & back) but it's such a unique experience getting to relax in a geothermal river in this beautiful setting. It's also great it's free.
Cost/Details – the Google Maps listing has the most information as there's no website. It is free except for parking and is open year-round although it's most accessible from March-September. If you go in the off months you likely will need crampons or microspikes for traction.
Laugarvatn Fontana Hot Spring Spa (Golden Circle)
This hot spring spa can be found on the Golden Circle with a picturesque mountainous backdrop. It's filled with different temperature pools as well as a lake nearby with very cold water that is used for submerging. There is also Finnish-style sauna and a steam room where you can hear the boiling natural hot springs underneath you. The geothermal bakery tops off the experience.
Laugarvatn Fontana Location and Details
This stop can be found in the center of the Golden Circle a 50-minute drive from Reykjavík. Hverabraut 1 840 Laugarvatn Iceland
What makes it different: Besides the amazing spa they also have a geothermal bakery and you can view how they bake the bread using geothermal and sample it with smoked trout.
Cost/Details – see here for current hours and pricing. Children 12 years and under are free.
Secret Lagoon "Gamla Laugin" (South Iceland, Golden Circle)
The Secret Lagoon is the oldest naturally occurring geothermal pool in Iceland. It originates from the late nineteenth century and is known as one of the most natural geothermal pool settings. There are many other hot springs located around the Secret Lagoon, such as Vaðmálahver, Básahver, Litli Geysir that feed into Secret Lagoon with a nice path built around the area for exploring. The surroundings have been kept natural and simple for an authentic Icelandic hot spring experience.
Secret Lagoon Location and Details
Secret Lagoon is in Flúðir in southern Iceland, on the Golden Circle. This is a great stop after visiting Gullfoss and Geysir and the Friðheimar horse and organic tomato farm are also nearby.
What makes it different: this hot spring is for those who like a quiet natural setting that is still large enough to feel like you can find your own space. Lower prices than Blue Lagoon.
Cost/Details – see here for current hours and pricing. Children under 14 are free and welcome. There are separate changing and shower facilities for men and women and a bistro with some snacks and drinks.
Hrunalaug Hot Springs (South Iceland, just off the Golden Circle)
A lesser known, very small natural hot spring near the Golden Circle. In an old stone-walled pool the water is hot and there are three different small pools with slightly varying temperatures. It is managed by a local farmer who requires cash or uses the honor system for visitors to leave their payment. There is no changing space and it can feel crowded quickly if others are there because it's so small. But this hidden gem, close to the Golden Circle is in a beautiful natural setting.
Hrunalaug Hot Springs Location and Details
Sólheimar, 846 Flúðir, Iceland. Located 5 min from the Golden Circle and 1.5-hour drive from Reykjavik.
What makes it different: it's small size and natural surroundings. No credit cards are taken so cash is needed.
Cost/Details – see here there is no website so the Google Maps listing likely has the latest details. There are no bathrooms, changing spaces, or garbage cans. Please take what you bring in and leave no trace.
Vök Baths (East Iceland)
These are a collection of geothermal floating pools with an amazing infinity view. It is located on the gorgeous Lake Urriðavatn in East Iceland. The site was discovered when those living near the lake noticed a certain spot that did not freeze over in the wintertime. The Icelandic name for ice-free patches like these is "Vök" (plural Vakir). Although Iceland is famous for its geothermal activity, the eastern part of the country is located on a cold spot making Vök Baths a rarity. They also offer a sauna, in-pool bar, changing area, and onsite bistro.
Vök Baths Location and Details
It is located in Egilsstadir in East Iceland.
What makes it different: This is one of the only hot spring baths found in eastern Iceland. They offer a cold water spray tunnel as well as a tea bar that differs from many baths. There are boardwalks surrounding the floating pools in the lake. They also focus on sustainability standards to care for the environment.
Cost/Details – see here for current hours and pricing.
Mývatn Nature Baths (Northeast Iceland)
This hot spring bath is often called the Blue Lagoon of the north. You'll find milky blue silica water, beautiful landscape, and similar offerings but it's not as touristy or expensive.
The lagoon itself is man-made and its bottom is covered by sand and gravel. They also offer steam rooms with a view of the lagoon and the space is large enough to find your own quiet space. There is a swim-up bar, cafe, and nice large changing area.
Mývatn Location and Details
Northeast Iceland is a one-hour drive from Akureyri in northern Iceland.
What makes it different: Mývatn has many of the offerings and a large space similar to Blue Lagoon with fewer crowds and about half the cost. Don't miss trying bread baked by the geothermal activity in the area. It's made at a private location and can be found in many local cafes. Lastly, this bath is located in a region where the sulfur smell can be stronger than in other areas.
Cost/Details – see here for current hours and pricing. Children of all ages are welcome and under 12 years old are free.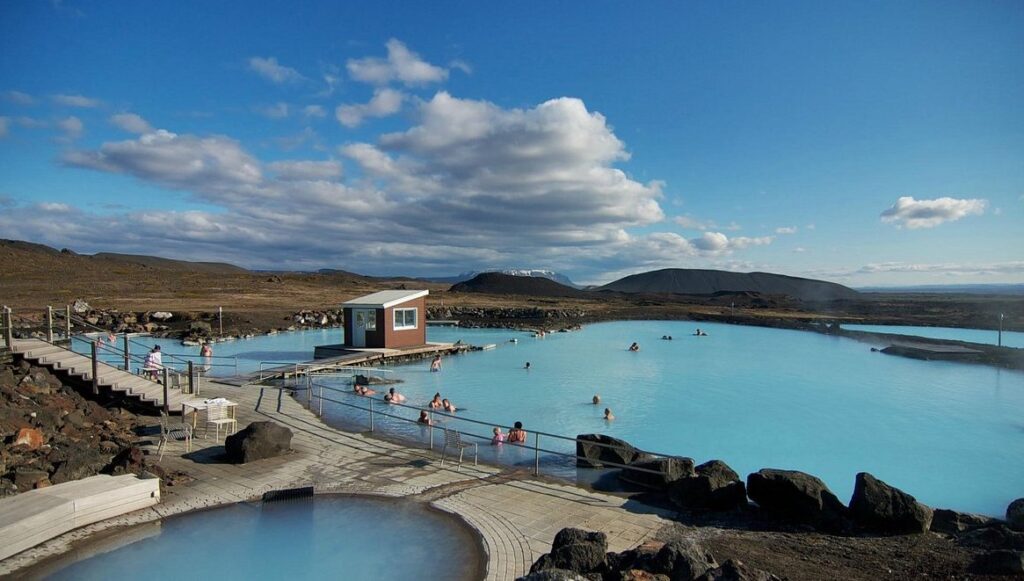 GeoSea (North Iceland)
This is the only saltwater geothermal spa in Iceland. The geothermal hot springs are located in a small fishing village in North Iceland. The pools sit on the western-facing cliffside that overlooks the Skjálfandi Bay and the Arctic Circle to the north. If you're lucky enough you can see whales or the northern lights right from the pools. There are two separate larger pools that vary in temperature as well as a smaller hot tub near the swim-up bar.
GeoSea Location and Details
Located in the town of Húsavík GeoSea which is one hour north of Akureyri. The spa sits at the base of the bright yellow Húsavíkurviti lighthouse. Head there after a whale watching tour or when seeing Lake Mývatn, Dettifoss, and Goðafoss waterfalls which are nearby.
What makes it different
It's a small but upscale location that overlooks the sea and offers snacks and a bar. The town of Húsavík is known for its whale watching and this infinity pool overlooking the sea provides a unique location for spotting whales in the summer and the northern lights in the winter. You'll find a mix of locals and tourists.
Cost/Details – see here for current hours and pricing. Children of all ages are allowed.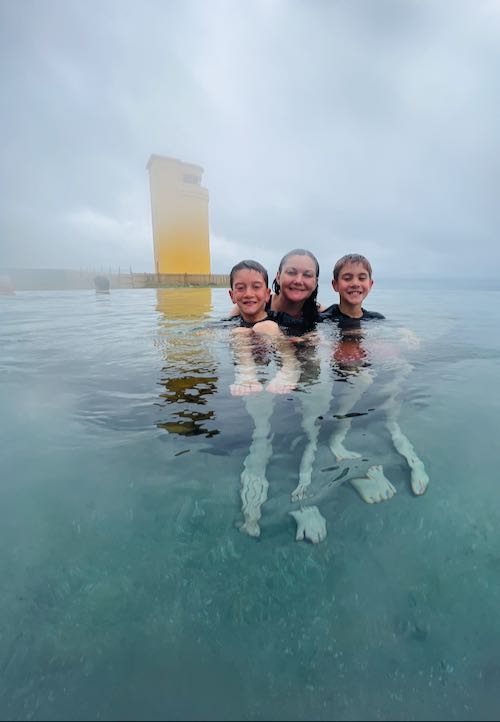 Forest Lagoon "Skógarböðin" (North Iceland)
The newest geothermal spa to open it's doors in 2022 in Iceland. This spa is uniquely located in the Vaðlaskógur forest near Akureyri. This bath uses natural geothermal water sourced from the mountain behind the forest lagoon, Vaðlaheiði. The water was rerouted during drilling for the Vaðlaheiðar tunnel project and previously just flowed into the sea. It has two infinity pools, a cold pool, sauna, swim-up bar, nice changing area, and bistro.
Forest Lagoon Location and Details
Vaðlaskógur, 605 Akureyri
What makes it different: located in a forest setting makes for a very rare and unique setting in Iceland. Is the newest geothermal spa to open in Iceland.
Cost/Details – see here for current hours and pricing.
Bjorbodin Spa (North Iceland)
This is a small unique setting where there are two outdoor hot tubs that fit 8-10 people each as well as smaller tubs filled with beer, water, hops, and yeast. These seven tubs fit two people each in the beer tubs. After 25 minutes in the beer tub, you move to a relaxation room for another 25 minutes. The outdoor setting includes views over Hrísey island, the mountains, and valley.
Bjorbodin Location and Details
It's a 30-minute drive north of Akureyri in northern Iceland. Ægisgata 31 621 Árskógssandi
What makes it different: a beautiful remote setting and if you check out the mini tubs you are bathing in a tub of beer and hops.
Cost/Details – see here for current hours and pricing. There is a restaurant and bar as well.
Hofsós Sundlaug Pool (North Iceland)
A beautiful outdoor community pool located on the Trollaskagi Peninsula in north Iceland. It overlooks the sea and a gorgeous Skagafjordur fjord backdrop.
Hofsós Location and Details
A four-hour drive from Reykjavik. Suðurbraut, 565 Hofsósi. It's a drive from the ring road but a unique community pool if you're in the area.
What makes it different: a community pool built in the hillside over the sea with a beautiful view and very reasonable cost.
Cost/Details – see here for current hours and pricing. Children are welcome and those under 6 years are free. This group also operates many other community pools and hot springs locations all over Iceland and locations can be found in the link above.
Grettislaug Geothermal Pool (North Iceland)
If you're looking for a natural hidden gem hot spring without all the extras and tourists this is it. Beautiful off-the-beaten path location with views of the sea, natural stone, and landscape. There are two pools available with the larger one fitting maybe 10 people and the smaller fitting 2-3 comfortably. There is a very basic bathroom, changing space, and shower.
Grettislaug Location and Details
At Reykir in Skagafjordur in north Iceland. 9miles/15km from town, down a long, unpaved often bumpy road. 65°52'56.5″N 19°44'11.3″W
What makes it different: remote, less touristy natural outdoor bath near the sea. Great views of the countryside, sea, turf houses and if you're lucky some horses. It has onsite camping available.
Cost/Details – Google maps listing provides the most details for this location as there's no current website. As of 2022 it was 2000 ISK per person to access the pool and 3,000 ISK for pool and camping. He accepts credit cards.
Krauma Geothermal Spa (West Iceland)
This is a man-made geothermal bath fed from Europe's most powerful hot spring Deildartunguhver. There are five different smaller hot pools of varying temperatures in addition to one cold pool. We recommend starting with the coolest and working your way up to see how your body adapts. Beautiful mountain setting in the background and they have a steam room, sauna, and a relaxation room with a fireplace in addition to the hot pools.
Krauma Location and Details
1.5 hours from Reykjavik in West Iceland between Borgarnes and Husafell. Great for a first or last stop when doing the ring road.
What makes it different: an upscale setting with nice additional relaxation areas beyond the standard hot pools. Gourmet restaurant and bar on site. Less touristy.
Cost/Hours: more details can be found here.
Húsafell Canyon Baths (West Iceland)
This bath is within a canyon that you need to take a guided hike to get to. The locals in Húsafell took on the project to maintain the natural area as much as possible while creating two geothermal pools within an amazing natural setting. The hot-spring-fed baths blend into the canyon and are constructed from locally sourced, natural materials.
Húsafell Location and Details
It's located almost 2 hours from Reykjavik in Húsafell. Hotel Húsafell is onsite and a great option for making it a longer visit.
What makes it different: you need to pay for a guided hike (English spoken) to access this bath site. It's considered an easy hike and the full tour takes about a two-hours and is offered year-round. It is a beautifully maintained natural setting perfect for relaxation.
Cost/Hours: more details can be found here.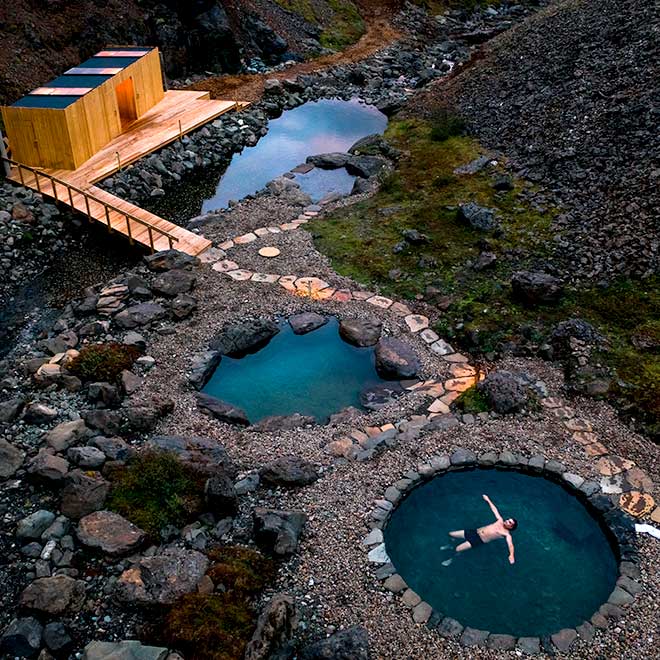 Free hot springs in Iceland
Nauthólsvík Thermal Beach (Reykjavik)
It's a rarity to find a golden sand beach in Iceland but this one can be found very close to the city center. It has a great space for kids to play and hot water is pumped into the man-made lagoon area of smaller pools. There is a cold water swimming option in the river. Many locals like this location for the cold water swim and then hot soak. There are changing facilities and showers, steam-baths and hot tubs. There is no entrance fee during the summer from mid-May until mid-August but there is a small fee for the changing area in the remaining months of the year.
Location: 101 Reykjavík, near the University of Reykjavik. More details can be found here.
Landmannalaugar (Highlands, Requires F-Roads)
The most difficult to get to because you can only get there via F-Roads in the summer from late June-Aug. Lots of hiking nearby so you'll find many hikers end by relaxing in this hot spring. Free but the showers and changing rooms have an additional fee of 500 ISK for 5 min. Camping is also available. Most details are found on its Google Maps listing as there's no website.
Location: Southern Highlands of Iceland, within the Fjallabak Nature Reserve. It's about a 3-hour drive (around 180 km) from Reykjavik to Landmannalaugar but you need to hire a guide or check whether the F-Roads are open. To see if the roads here are open check road.is
A four-wheel drive vehicle, often with high clearance, is necessary to drive throughout this region.
Westfjords Hot Springs
If you're looking for an off-the-beaten-path experience the Westfjords is a great option for exploring the remote areas of Iceland as well as lots of natural free hot springs. The drive is a minimum of four hours from Reykjavik but much longer should be planned to explore the area. We'll just touch on Hellulaug hot springs, but there are many others in the area that shouldn't be missed. Other hot springs in the Westfjords are Birkimelur, Tálknafjörður, Reykjarðarlaug, Hörgshlíð and Nauteyri.
Hellulaug Hotsprings in the Westfjords
This hot spring provides great views of the sea and Vatnsfjörður Fjord. There is no hiking required but you will need to go down through a small cliff via the parking lot that will take you to this secluded natural bath. There are no changing facilities available. Although it is free there is a donation box near the parking lot for the maintenance of the pool.
Location: can be found about four hour drive from Reykjavik. It's on the south coast of the Westfjords just off the highway and is close to the beach in Vatnsfjörður. It can be difficult to find as it can't be seen from the road so follow these GPS coordinates: 65.57715, -23.15948 to the parking.
Reykjadalur Hot Spring Thermal River (South Iceland)
An amazing hot springs river that is free to experience. See full listing above.
Seljavallalug Pool (South Iceland)
While this one is free it does come with some cautions and we include it only to warn travelers pretty photos don't always add up to reality. While this is also said to be the oldest pool in Iceland (they battle it out with Secret Lagoon) built in 1923 it has not been maintained and tourists have not treated it with respect. You can find this pool at the base of a glacier in south Iceland and it does require a 20 min walk in each direction (2 miles/3.2km roundtrip) that is flat but is along a rocky river bed so you need to go slow. Recommended to change before going as there is a limited changing area that is coed, not maintained, and has known to be very dirty with garbage left behind. Also, bring very few things as there is nowhere to store your belongings. The water is lukewarm at best and there is a lot of algae.
Location: Iceland's south coast, close to Skogafoss Waterfall. GPS will find "Seljavallalaug Parking Lot"
Kvika Footbath
Can be found right in Reykjavik, this free hidden gem is easy to get to but you can only soak your feet as it's shallow. A unique place to hang out and watch the sunset (if there is one!)
Map of hot springs in Iceland
What to know when visiting hot springs in Iceland
Most require advance reservation and the most popular do book-up
Consider booking for your first or last day but remember to account for any flight delays
Larger pools like Blue Lagoon will have luggage storage if needed
Most have towel, robe, and swimsuit rental options but if you want to save bring a travel towel
Most larger spas will give you a bracelet upon check-in that your credit card and locker tie to so you can easily buy beverages without a wallet available.
Try out a few different types of hot springs and pools to see which is right for you
Etiquette for visiting hot springs in Iceland
Take the time to read the rules posted in the locker room or near the pools. They can vary by location and it's good to respect the rules locals are accustomed to.
One important rule that will be different for many Americans is the need to shower naked before entering any of the pools. This is a requirement at all baths or pools in Iceland. It's customary that you remove your swimsuit, shower with soap and water, put your suit back on, and then hang your towel in the locker room before heading for the pools. You could be stopped if you don't do this and it's for sanitary reasons. This is a practice all locals are accustomed to. There are some private changing areas in some spas that can be accessed or paid extra for but most are an open locker room.
Always leave no trace in any natural hot spring area and be respectful of noise levels and give space when others are also trying to enjoy the space.
How to pick which hot spring is best?
We recommend planning your itinerary first and then seeing where you might have space to fit in a geothermal pool or hot springs. They are located in most towns throughout the island so it's easy to fit in a stop. Also, don't forget about the evenings, especially if traveling during the summer with the midnight sun this can be a great time. We also recommend planning a pool or hot springs stop either on the first or last day of your trip depending on your travel times. If you arrive early it's a great way to stay busy to adapt to the time change without an overly strenuous activity. It's also a relaxing way to end a trip. They all are so different so you can't go wrong picking.
What to bring for a hot springs visit
If it's an outdoor natural hot spring you'll want to bring very little and ideally be changed in advance as changing space and amenities can be limited. If it's a well-established spa with changing space then most will have lockers available that are often accessed with a bracelet provided upon check-in.
Things helpful to bring
Waterproof phone holder – we loved having this along and it works great to allow you to take photos while protecting your phone from the water. We also used it for waterfalls and when it rained so it was used multiple times on this trip.
Quick dry travel towel – if you're looking to pack light this isn't needed as most places you can rent a towel but if you're looking to save money and plan to visit more natural hot springs without rentals, bringing a towel is a good idea.
If you are going in the winter to outdoor locations that require a hike make sure to consider crampons or microspikes for traction as well as hiking poles. Plan to bring warm winter gear for the way in and make sure to have a winter hat for over wet hair on the way back.
Lastly, the geothermal baths and hot springs recapped here are incredible natural wonders to see in Iceland. If you visit please plan ahead and leave no trace to ensure future visitors get to enjoy the same natural beauty. Let us know in the comments or on Instagram which hot springs is your favorite!
Check out these other posts on Iceland
Where to stay in Iceland on the Ring Road
Money-Saving Iceland Travel Tips