We love hiking and outdoor trips with our kids, but sometimes finding the right hiking gear for kids can be difficult and time-consuming. Clothing and gear that fits are crucial for everyone to be able to enjoy the experience. The recommendations here for the best hiking gear for kids have been tested countless times through many adventures. We recommend what has worked for us, is good quality for the price, and brands that value our planet.
Disclosure: when you buy through links on our site, we may earn an affiliate commission at no additional cost to you. We only recommend products we would use ourselves and all opinions expressed here are our own. Read more about our privacy policy.
Our picks will cover the best kids' hiking gear for all seasons.
Hiking pants for kids
When searching for hiking pants for kids look for quick-dry (mostly nylon not cotton) and comfortable. We also look for versatility and the ability to pack efficiently. We like the REI Co-op brand Sahara convertible pants that turn into shorts, North Face or Kuhl sometimes have similar options as well. Here are multiple style options for lightweight kids hiking pants. Be aware there are a lot of cheap knock-off ones on Amazon but we've tried them, they're oddly sized and don't hold up. Save yourself the return and go with hiking pants of good quality and ones that will sustain your kids' adventures.
For hiking in the spring or when it's wet, we like these waterproof Jan & Jul pants. There are fleece-lined ones that do a good job of keeping them warm as well as dry. But if it's raining hard or you live in an area that rains frequently having full rain suit is helpful. We have consistently used Columbia as they're very lightweight and easily go over whatever pants they're wearing. For younger kids, these Jan & Jul rain suits are great at protecting them from wet or dirty trails.
Best layering hiking shirts for kids
For shirts, look for a variety of options that are quick-dry, can easily be layered, and will pack nicely.
Tech fabric is best for the t-shirt layer against their skin. From there look for a midweight long sleeve layer and we've found good options at either REI or Amazon for kids' hiking shirts. We also love Smartwool brand layering shirts as the merino wool is good in all temps and is naturally odor-resistant. We love to mix in some fun t-shirts when hiking or traveling and these shirts also give back to our planet.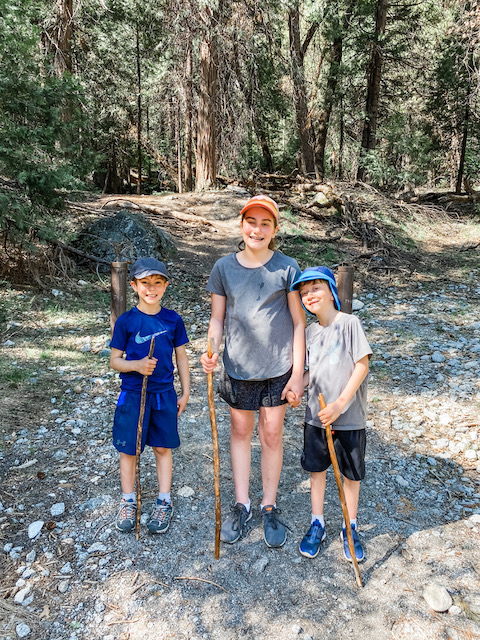 Our picks for hiking jackets for kids
Having the right outer layer can be so crucial in kids being happy when hiking. This requires keeping them warm and dry.
Kids' fleece jackets 
For kids' fleece jackets for hiking, we often pick full-zip options from REI brand, Columbia, or Patagonia.
Packable down jackets
For travel and hiking, we often bring packable down jackets that are REI brand or Patagonia.
The weather can change quickly while hiking so we bring them along for most trips in the fall, winter, and spring.
Kids' rain jackets
We love Mountain Warehouse for kids' rain jackets. They are reasonably priced and fully waterproof with taped seams and zipped pockets.
Best hiking shoes for kids
Buying hiking shoes can be difficult for kids and getting the size just right is so important to their overall comfort. It can help to know whether they have a narrow or wide foot to help focus on a brand that will likely fit. We also like to go with a hiking shoe that has traction versus a hiking boot (for all seasons except winter) as they have more versatility during travel and we've never had an issue. Our favorite kids' hiking shoe brand has been Merrell and they have options for wide widths. But any shoe they're comfortable in is always the best option.
If you have a tween or teen who is on the border of needing adult sizes you can also find smaller-size trail running shoes that can work. As an adult, I've switched to trail runners (love these!) for hiking while traveling as they're much more versatile for packing less. For winter hiking in snow or if it's wet in the spring/fall hiking, we use a winter snow boot. Our favorite by far is Bogs Neo-Classic as they have a rubber toe and edge that allows for easy rinse off, their feet stay warm and they work great in deep snow. We always get them in gender-neutral colors and all of our kids reuse them.
Kids' Hiking Shoes our favorite are Merrell waterproof kids' hiking shoes. Remember to leave a little extra room as when their feet warm while hiking they expand.
Kids' Hiking Sandals our favorite are Keen's for kids' hiking sandals. We love the closed-toe design for added protection while hiking or in water.
Kids' Winter Boots we love the versatility and have always used our kids' Bogs boots for hiking because they have great traction and clean up easily.
Kids' Hiking Boots if you need a hiking boot that supports the ankle more these options are a bit higher and a Merrell waterproof option would be a great pick.
Hiking hats for kids
Any hat your child will wear is the best hat. They help shield from the sun when hiking during warmer months when a wider brim and neck flap can help. Cold weather hats are always in our packs in the winter/spring/fall seasons because they are easy to pull out and warm up if the temperature changes quickly.
Hats we like for kids
Summer/Spring/Fall
Columbia and Patagonia have great everyday hiking hats for kids.
Sunday Afternoons lightweight adventuring hat with good coverage.
Coolibar SPF 50+ hat for long adventures (love quick dry!) and when water is involved.
Winter/Spring/Fall
For cold weather hiking hats, we like a standard knit beanie and look for fleece lining for the forehead and ears.
Kid's backpacks and hydration
If you're looking for a great travel and hiking backpack for kids check out these packs. The Osprey Daylight Pack is a great option for a lightweight travel or hiking backpack.
For day hikes, our approach typically is to bring adult backpacks with all of our family gear so the kids will hike easier. Another option is to get a kid's hydration pack as they are often smaller (sometimes lighter, but make sure to factor the water) and many have pockets for extra things.
Best child carriers for hiking
For younger kids, a hiking carrier is really nice to have if you're planning to go a longer distance. Look for lightweight, sun-protection, and storage options and consider who will be wearing it. Some are versatile and fit men and women and others are fit especially for women. We have used both the Kelty Journey PerfectFIT and the Deuter Kid Comfort Child Carrier with our twins and liked them both. For infants, LÍLLÉbaby makes carriers that are great for hiking and easy to use.
Water bottles for kids
Takeya – we prefer water bottles that aren't plastic and don't have lots of parts and this one fits the bill and is just the right size (18oz) for elementary-age kids. They have various sizes.
Thermos – these are great for preschool kids and younger as they're 12oz, easy-to-use, don't leak, and use limited plastic (straw and top liner are plastic).
Thermoflask – for use in the car with kids we prefer a straw as it's easier than a pour (huge mess!) so this is a great option with limited plastic and reasonably priced and there are multiple size options. We recommend 18oz for elementary age and 24 or 32oz for family use.
Step/activity trackers for kids
A step tracker can be a great motivator for kids while hiking as well as to encourage a healthy lifestyle. We use it for family competitions, tracking steps to the next snack break, and overall motivating them to keep on going on hikes! Which activity tracker is right for you varies by age and what features you're looking for. Also, if family step challenges are of interest beyond hiking and you have an activity tracker watch, consider getting the same brand for your child as tracking in an app can be easier.
BIGGERFIVE Fitness Tracker Watch – this is a basic step tracker watch, but very easy to use at a low price point where if they lose it or grow tired of it quickly it won't matter. Recommended for ages 4+ years. We were impressed with this one for the cost.
Garmin Vivofit Jr – Is durable, has an impressive one-year battery life, and has a game-like incentive feature. Bonus: parents can use the smartphone app to assign chores and schedule alerts. Garmin says recommended for ages 4-9yr but we think max-age is more like 6yr. Limited band options when purchasing, but there are additional off-brand options.
Fitbit Ace – there are multiple options with varying features and these watches are recommended for 6yr+. Most of the Fitbit Ace options measure steps and active minutes are water-resistant and have five-day battery life. They also have interactive elements like step competitions as well as sleep tracking.
Verizon Gizmo Watch – this watch packs in all the features if you have a Verizon phone plan. It has a GPS locator, step-tracker, is waterproof, and allows for sending/receiving voice notes, call, or text. This is a great option for hiking as well as kids starting to have greater independence, but not yet ready for a cell phone.
Better environmental stewards
Lastly, every product has an environmental and social footprint. Start by looking at what clothing and gear you have already and whether anything can be passed down to another child or reused by someone else in the family. When we buy new gear we buy gender-neutral colors for clothing so all of our kids can use it. If we can't reuse, next we try to find things second-hand through local gear swaps, Facebook groups focused on the outdoors or camping, as well as Facebook marketplace. Buying local first then consider opening it up to Facebook marketplace shipping or eBay.
We support brands that care about our planet, especially ones that give 1% for the planet. So please use these recommendations as a guide, and if you can borrow from a friend, find one used, or buy from a great brand that supports our planet and then pass it along to next child we're all for it.
We hope this ultimate hiking gear for kids helps you find the gear to keep everyone happy on your next adventure. We love hearing about what hiking and travel gear you love for your kids. If you try any of these items, leave us a comment or drop us a message. Happy adventuring!
---