If you're looking for the best things to do in Estes Park with kids you are in the right place. All of these kid-friendly hikes and activities in Estes Park will not require a reservation to Rocky Mountain National Park, but some may even get you into the park. Estes Park is a great base to stay for exploring Rocky Mountain National Park but also offers so much more.
Disclosure: when you buy through links on our site, we may earn an affiliate commission at no additional cost to you. We only recommend products we would use ourselves and all opinions expressed here are our own. Read more about our privacy policy.
Best things to do near Estes Park with kids
We'll start with a few great hikes near Estes Park that don't require park access.
Lily Lake(.8 miles, easy)
This is flat, accessible for strollers/wheelchairs; and has a maintained path around the lake that is very scenic. This lake is just off State Hwy 7 on the west side and doesn't require park entrance to access this hike. Kids will be entertained by the dozens of muskrats and other wildlife near the lake.
East Portal to Sprague Lake hike
(5.6 miles with the option to add Sprague Lake (1.5mi), moderate difficulty, and 856 elevation gain) This one is for older kids or good hikers and will technically put you in Rocky Mountain National Park without requiring a reservation. The river rushes along the trail and the hike also includes smaller waterfalls along the way. More details and a map can be found here.
Riverwalk in Downtown Estes Park
This is a great riverwalk that starts at the Estes Park visitor center and follows the Big Thompson/Fall River as it winds through downtown Estes Park. Cross bridges along the way and catch a bite to eat at one of the many restaurants and coffee shops along the way. You also can take the riverwalk to Lake Estes and explore around the lake. Click here for more info.
Estes Park aerial tram
If your kids are tired of hiking this is a great activity to get an aerial view of the park without a lot of effort. Operates daily from the end of May to early September but check the website for current pricing and details. This tram is one of the few European-style cable cars operating in the US.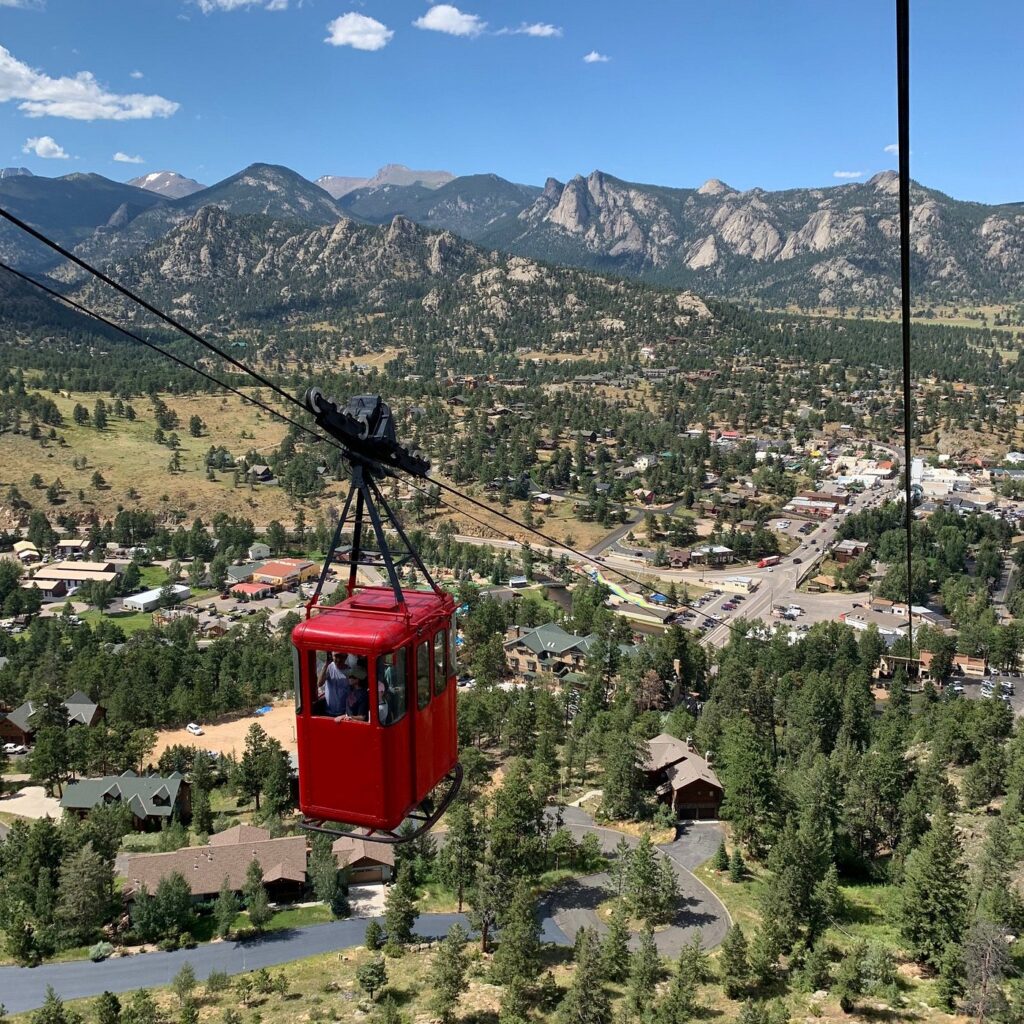 Jackson Stables horseback riding
This stable is outside the park but they are authorized to do rides into Rocky Mountain National Park. This is where we took our three kids horseback riding and had a great time. We found them to be very family-friendly and it was a nice beginner's ride. They are located at the Estes Park Center, YMCA of the Rockies in Estes Park, Colorado. This is a great way to be able to see Rocky Mountain National Park if you don't have a park reservation. For more information click here.
Mustang Mountain Coaster
Right in Estes Park families can enjoy this scenic mountain coaster ride as a great way to mix it up from hiking in Rocky Mountain. It often runs from March through October, but check here for the schedule and current rates.
Day trip to Boulder
Boulder is less than an hour from Estes Park and makes for a great day trip. We love the Fiske Planetarium, exploring the historic downtown and pedestrian Pearl Street Mall. If you're looking for a hiking spot outside of Rocky Mountain, Eldorado Canyon State Park or Boulder Mountain Park are great options.
Open Air Adventure Park Estes Park, CO
Aerial ropes course with challenges and zip lines as well as ax throwing. School-age kids and teens will love this adventure. More information here.
Grand Adventure hot air balloon rides
This is a unique way to view the Rocky Mountains from high above in a hot air balloon. They are located 30 minutes from Grand Lake, the West entrance to Rocky Mountain National Park, and 2 hours from Estes Park, Colorado. If coming from Estes Park you will want to confirm Trail Ridge Road is open before booking or your drive could be longer. Learn more here.
Professional Tours near Estes Park
If you're looking for a professionally guided tour of the area, as well as inside Rocky Mountain National Park check out these Get Your Guide tours. For most tours, if you book with them, national park reservations are already included with your tour.
Where to stay in Estes Park
Estes Park is such a great area to stay with easy access to Rocky Mountain National Park as well as these great things to do nearby. The best part is the variety of great stay options, from hotels to cabins in the woods. Check out the links below and let us know your favorite stay in Estes Park.
Find places to stay in Estes Park on Booking.com
Find Vacation Home Rentals in Estes Park on VRBO

Lastly, there are so many things to do in Estes Park with kids. If you're looking for more Rocky Mountain National Park trip planning information see our full guide here. Estes Park has so much to offer for a family vacation trip with kids. Have you ever visited Estes Park? Let us know your favorite stops and best tips, in the comments below, or find us on Instagram. We'd love to share in your travels!
Related Articles