Bayfield is located in northwestern Wisconsin along the shores of Lake Superior and offers things to do in every season. It is known as the gateway to the Apostle Islands National Lakeshore with scenic lighthouses, endless options for outdoor adventure, and small-town charm. Bayfield has some of the best kayaking in the world featuring the sea caves along Lake Superior. Another way to catch the great views from the water is to ride the ferry to nearby Madeline Island to explore Big Bay State Park or downtown LaPointe. A trip in any season brings so much to do including the summer music festivals, fruit orchards, Apple Fest in the fall, and the maritime museum.
Disclosure: when you buy through links on our site, we may earn an affiliate commission at no additional cost to you. We only recommend products we would use ourselves and all opinions expressed here are our own. Read more about our privacy policy.
Come along as we give you the best things to do in Bayfield, WI
Apostle Islands National Lakeshore
Take a tour from Bayfield to see the Apostle Islands sea caves up close. Meyers Beach is the most popular section of sea caves but there are others as well. Note, kayaking in this area of Lake Superior can be quite dangerous and conditions can change very quickly so going with an experienced guide is recommended. Kayak tours typically end for the season by late September.
Below are a few recommended guides that offer kayaking tours, kayak rentals, and overnight camping trips although you'll want to compare their offerings based on your needs. You can also check the lake conditions here before going.
The Apostle Islands Cruises has a narrated sightseeing tour that brings you to all the top scenic spots on a large boat. This is another way to see the Apostle Islands and the surrounding area. The grand tour does run through the end of October which can be a nice option if you visit when kayak tours end in September.
Apostle Island Ice Caves
If conditions are just right then seeing the Lake Superior mainland ice caves in the winter is a bucket list experience not to miss. It depends on ice cover and weather conditions for the year as visiting the ice caves requires a 1-mile walk on Lake Superior. The ice caves unfortunately haven't been open to visitors in the winter since 2015. Due to a warming Lake Superior and an increase in larger storms, climatologists believe the accessibility to the caves in the winter will continue to be a rarity.
Tips for visiting in the winter.
Hikes in Bayfield
If the season, water conditions, or physical limitations prevent you from seeing the Apostle Island sea caves by kayak then consider hiking the Meyers Beach Sea Cave trail. It's a 4.6-mile out-and-back hike rated as moderate. There are boardwalks, bridges, and beautiful scenery before you even get to the amazing lake and sea cave views. You start to see the sea caves at mile 1.8 but if you continue another half-mile the views keep getting better. It's one of the best hikes in the midwest and one not to miss. If visiting in the winter or spring when there's snow and ice it's best to use ice traction or crampons and hiking poles as it can be slippery.
Tip for Visiting

There is limited cell service in the area so download the Google map or the area as well as make sure to have the recreation.gov app. Meyers Beach parking fees are only collected with the recreation.gov app Scan&Pay feature and there are no envelopes for cash pay.
Another great hike in the area if you're looking for a shorter distance that is also good for younger kids is the Houghton Falls Trail. It's a 1.3-mile out-and-back trail rated easy near Washburn, Wisconsin. There are fun areas to explore with a grand lake view at the end. Waterfalls are seasonal and were dry when we were there in October.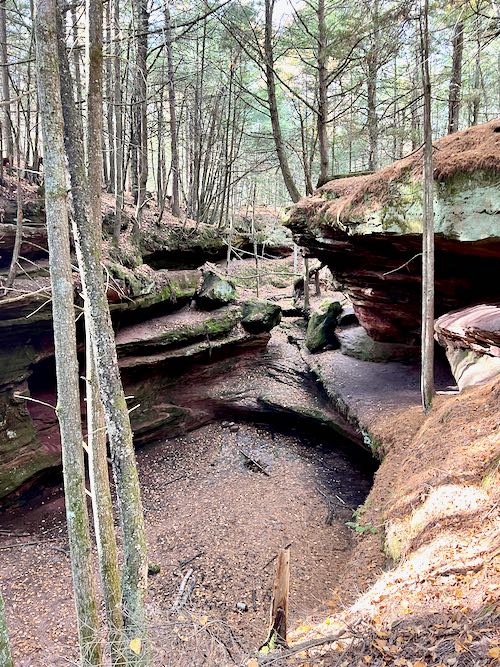 Tips for Visiting

The nature preserve is on private land so they adhere strictly to the open hours of 6am-6pm and a gate shuts during closure hours. There is a small ~10 car free parking lot. If this is full it's good to wait or try another park as there is no street parking on Houghton Falls Road and tickets are issued for cars parked on the street.
Visit a Local Orchard or Farm
Bayfield being so close to Lake Superior has a unique microclimate that creates ideal growing conditions for orchards and berries to thrive this far north. Bayfield is known as the berry capital of Wisconsin and you can find them for sale at the nearby farms. In the fall, visit one of the ten apple orchards in the area, and don't miss Apple Fest in early October. Find a list of the orchards and farms in the area here and this one has a good map of where you can find them in the area.
Bayfield Maritime Museum (seasonal)
Visit this museum to learn more about the long nautical history of Bayfield and the Apostle Islands in Lake Superior. The museum is free to visit and is open from Memorial Day through the end of September. For more information or to check out the virtual tour check here.
Marina Park and Playground
This stop is very close to the Maritime Museum and a great space for kids to work off energy with great views of the marina and Lake Superior in the background. There is a fun playground with a volleyball court and a dock for fishing. There is another park Cooper Hill Park that is being updated with new equipment and should be completed in 2023.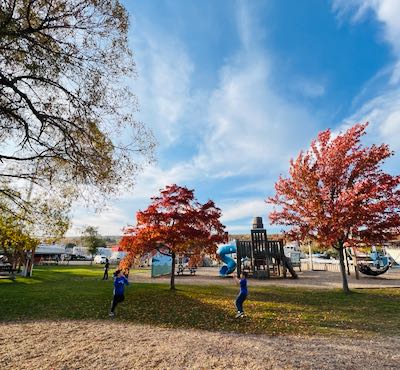 Take a Ride to Madeline Island
A trip to Madeline Island is such a fun thing to do during a trip to Bayfield. The ferry runs from early April until winter freeze which is typically in January. Even when winter hits it's still possible to make it to Madeline Island using the windsled or ice road for vehicles. Find the ferry schedule here. The ferry ride takes approximately 20-25 minutes and there's an option to bring a car or bike, or there are also rentals available on the island. Renting mopeds or bikes on the island can be a fun way to explore. No reservations are needed in advance for the ferry but it's generally best to be in line 15 minutes before the scheduled departure. The Village of La Pointe is walkable and located just past the ferry dock. There are shops, restaurants, lodging, hiking trails, a grocery store, a small public beach area, coffee, bike, and moped rentals, and more within walking distance.
Fun Fact
Although Madeline Island is the largest of the Apostle Islands it is not considered part of the Apostle Islands National Lakeshore. It is the only island in the Apostle Island chain that is open to private ownership and commercial development.
Big Bay State Park on Madeline Island
This is Wisconsin's northernmost state park and can be found six miles from the ferry dock on Madeline Island. The park includes a 1.5-mile sandy beach, a 60-site campground, and eight miles of trails to explore. There is also an accessible ramp and boardwalk to Barrier Beach. Planning a hike and picnic in Big Bay State Park is a great addition to a trip to Madeline Island. Wisconsin state park fees apply.
Bayfield Sailing Charter
Sailing on Lake Superior is a beautiful way to experience the Apostle Islands National Lakeshore and see Bayfield from a new perspective. True North Sailing Charters offers multiple boat and tour options from May through October. Find more information at True North Sailing.
Lake Superior Big Top Chautauqua
This is a small non-profit arts organization that brings concert and performing arts events to this intimate 900-seat big top tent theatre for four decades. It is a great community tradition and a unique way to catch a show in the summer. They host over 60 concerts and events from June-September. There are sometimes off-season shows and Tent Show Radio that can be found on online streaming platforms. Check here for more details. There is also a shuttle available within the local area on nights when there are shows (reservations required).
Howl Adventure Center
Whether you're looking for outdoor adventure or a community gathering spot, this place offers so much to a visit to Bayfield. They are open year-round and are so passionate about sharing their gear and trail advice for exploring the local area.
They offer two convenient store locations in Bayfield with all the outdoor gear you'll ever need. Beyond that, they offer bike and ski rentals year-round and provide recommendations on the best trails in the area (some right outside their door).
Adventure Club Brewery Taproom is also onsite and the perfect spot to relax and enjoy after a long day of adventuring. There is outdoor seating, fire pits, and a taco food truck. If that wasn't enough there is an amazing wolf sculpture that will greet you to know you're in the right spot. When we were there the big open field and sculpture were perfect for endless play for the kids while the adults enjoyed socializing. More information
Halvor Reiten Park and Public Beach
This small public beach is within walking distance to many downtown Bayfield businesses and a great place to take in the views. Mostly sanded beach with limited seating and no changing area but great for a dip in the summer. If you're looking for other beaches check out Barrier beach on Madeline Island which requires a ferry ride but is 1.5 miles long with great swimming and areas to explore.
Things to do in Bayfield in every Season
There are so many free and easy things to do in Bayfield in any season but here are some highlights of what not to miss during a visit.
Summer in Bayfield
This is the best time to visit if you want to fully experience kayaking the sea caves. Weather conditions can change quickly at any time but summer provides the best chance to experience the sea caves from the water. Surrounded by berry fields and orchards, Bayfield is known as the berry capital of Wisconsin so don't miss a stop at the berry farms during the summer. You can find fresh strawberries, raspberries, blackberries, blueberries, and sweet and tart cherries. Check out the farms and orchards of Bayfield here. In the summer there are golf courses, ATV trails, and lots of hiking.
Fall in Bayfield
During the fall don't miss visiting the regional apple orchards. One of our favorites is Blue Vista Farm. There are several in the area, and in October there is the Bayfield Apple Festival which is not to miss if you're planning a fall getaway. Hauser's Superior View Orchard is also a must-visit place. If you happen to visit the third weekend in October check out the Family Fall Fest on Madeline Island. Apostle Islands Cruises also runs the grand tour boat cruise through the end of October. Although it changes yearly, there is often great fall color in Bayfield through late October. Check here for the WI DNR fall color report.
Spring in Bayfield
Experience Bayfield in bloom with wildflowers during the spring months. This is a great time to visit when seasonal businesses start to open again, but before the busy summer months bring more tourists. You will likely spot daffodils, lupines, and white and pink apple blossoms as you hike or explore Bayfield in the spring. There are also plant sales and an annual garden tour to check out in the spring.
Bayfield in the Wintertime
A visit to Bayfield in the winter has a lot to offer. If a trip to the ice caves is possible during your visit this is a must-see but most years it's not open. Bayfield also has holiday events and every year in March a Winter Festival that is a great way to experience all the fun winter things to do in Bayfield.
Mt. Ashwabay is a community-supported skiing and outdoor recreation spot that overlooks Lake Superior. They offer various kinds of skiing, snowshoeing, and fat tire biking in addition to hiking trails. Pike's Creek Mt. Ashwabay ski trails are a hidden gem in the winter. Check out more information here.
Wolfsong Adventures offers dog sledding adventures for all ages and abilities and is such a unique experience when looking for things to do in Bayfield in the winter.
Visit Madeline Island after the freeze hits (typically in January) by a windsled and when the ice road opens caution is always advised if driving across to the island. Be aware many restaurants and businesses are only open seasonally so check before you go.
Planning a Trip to Bayfield
Here are all the trip details to plan a great trip to Bayfield in any season. The things to do in Bayfield are mostly centrally located so you can pick a place to stay that is walkable or close to everything in the surrounding area.
Where to stay in Bayfield
Bayfield Inn has been in business for over 100 years and offers 21 hotel rooms, 25 vacation rentals, and multiple on-site restaurants. The Inn and the Bayfield on the Lake Condos are right on Lake Superior. We highly recommend the condos as they are modern, in a great walkable location, and overlook Lake Superior.
Old Rittenhouse is a victorian bed and breakfast with 20 guest rooms located in three historic Bayfield homes. It has a full-service gourmet restaurant onsite.
Wildrice Retreat is an adults-only, new architecturally designed accommodation that connects with nature and has a restaurant and retreat classes on site.
Bayfield area VRBO's most vacation rentals are close to the lake and provide ample space for families and relaxing.
Apostle Islands Campground offers 63 wooded campsites as well as unique themed cabins and a covered wagon for rental. This site is very close to the Adventure Club Brewery.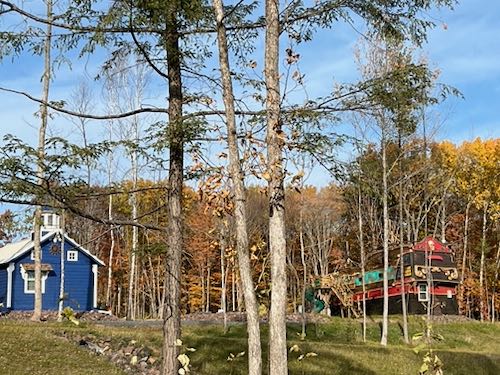 How to get there
Flying
Duluth International Airport is just under 2 hours away from Bayfield and Duluth offers direct flights from Minneapolis and Chicago daily.
Driving
Having a car is important as there are very few public transportation options.
Where Bayfield is located
Duluth, 1hr 45min (85 miles) east, consider taking the Wisconsin Lake Superior Scenic Byway (State Highway 13) along the lakeshore.
Eau Claire, Wisconsin: 3 hours
Minneapolis, Minnesota: almost 4 hours
Madison, Wisconsin: 5.5 hours
Milwaukee, Wisconsin: 6 hours 20 min
Chicago, Illinois: 7.5 hours
When coming from the Minneapolis/St Paul area we enjoyed going through Superior, WI one direction to see Pattison and Amnicon State Parks and returning through Mellen, WI to see Copper Falls State Park and then through Hayward, WI. If traveling with kids check out the Wayside Wanderings natural play area in Cable, WI as a fun stop to break up the trip.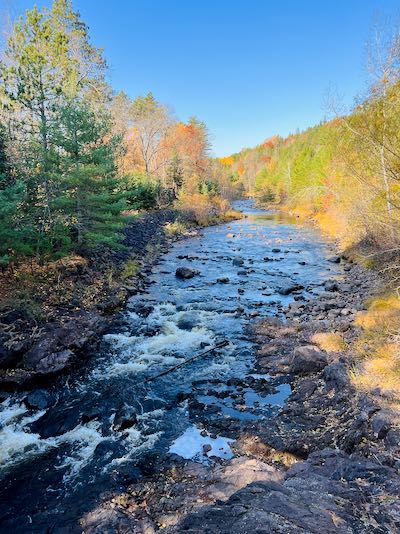 Food and Drinks in Bayfield
Check out some of these great restaurants and bars when you visit Bayfield. Some may be seasonal so check before visiting if you're going in the off-season.
Wonderstate Coffee
Copper Crow Distillery
Superior Taco Truck and Adventure Club Brewery Taproom
Bayfield Inn
Copper Trout
The Creamery Bar
Sweet & Salty
Land acknowledgment
The Apostle Islands National Lakeshore is home to the Red Cliff Reservation and the Red Cliff Band of Lake Superior Chippewa Indians. The reservation is on the Bayfield peninsula and upholds and passes down traditions of the Anishinaabe heritage. Madeline Island is also a sacred homeland for the Red Cliff and Bad River Ojibwe bands of Lake Superior Chippewa.
Although Bayfield is one of the smallest towns in Wisconsin there are so many things to do. If you have more time check out a golf course, shopping downtown, Stone's Throw Art Gallery, Les Voight State Fish Hatchery, Old Bayfield County Courthouse, or many of the surrounding state parks in the area. Or take it slower and sit back and watch the sunset over Pikes Bay marina and listen to the relaxing sounds of Lake Superior. We saved our full trip as a story highlight on Instagram that you can check out. If you take this trip let us know what your favorite thing to do in Bayfield was.
Pin it to Save for Later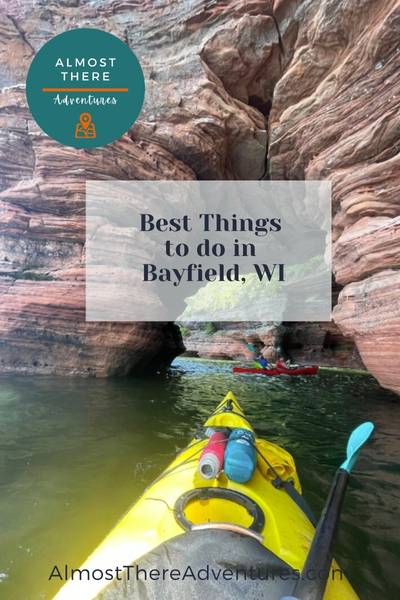 Other articles